Tips for Using HIX ArticleGPT to Rewrite Content Efficiently
Updated On October 26, 2023 | by Steffani Griffith
ArticleGPT from HIX.AI is a sophisticated AI rewriter tool that is designed to understand the meaning behind any content it provides before paraphrasing it in a unique and contextually accurate manner.
In addition, the free Article Rewriter of HIX.AI also enables users to tailor the rewritten text to their preferred style requirements.
That is, the tool typically works by users pasting their existing article writing into the designated field before opting for their desired inputs such as tone of voice, language, target audience, etc. Once you hit 'Generate', it will paraphrase the text and provide you with a fresh piece of item, that should bypass even the most advanced plagiarism checker.
You will be able to get alternative versions of the revised text by simply repeating the process, and consuming different style inputs as well. The mechanism automatically fixes any grammar, vocabulary, punctuation, and even sentence structure issues, which can help to significantly enhance the text's overall readability.
Now that you know what it is and what it can do, let's dive into how it can help you in your daily workflow and also how to go about using the tool in the most efficient way possible. Read on to learn more.
How Can HIX ArticleGPT Be Useful?
There are numerous ways by which utilizing this tool from HIX.AI can prove to be an invaluable resource in your daily essay writing. Some of these main case scenarios can typically include:
Combining Multiple Content Pieces
As a student, marketer, researcher, or even writer, there are times when you may find yourself faced with several different items that you would like to combine into one. With help from this artificial intelligence tool, it is possible to rewrite the smaller chunks and craft one insightful writing, thereby saving yourself a lot of time and effort doing it manually.
Repurposing Old Content
From time to time, you may be unable to create a new blog because you lack enough time in your schedule. Alternatively, it may be because you find yourself struggling with writer's block. In such situations, you can count on it to help you repurpose old articles or posts and republish them as new for wider audiences. In doing so, you will be able to consistently churn out pieces that keep you ahead of your competitors.
Tailor Content for Specific Audiences
With ArticleGPT of HIX.AI, you will be able to not only rework to avoid any risk of plagiarism, but you will be able to customize the text to suit your intended audience as well.
For example, if you need to publish a piece to appeal to older or younger audiences, you can adjust the tone of voice. You will also be able to appeal to native audiences by translating it into multiple languages to increase engagement.
DO YOU KNOW:-
By 2030, the growth in AI technology has the potential to contribute $15.7 trillion to the global economy.
Who Should Consider Using HIX ArticleGPT?
HIX.AI's tool can serve a wide range of users in several different fields and industries. For one, this AI can be a great means for professional writers and bloggers who need help to produce long-form or short-form blogs frequently. With its help, it becomes easy to rewrite any type of written piece for readability, clarity, or copyright compliance.
Students and researchers are another group of users that are bound to find ArticleGPT very useful. It enables them to revise basic info that can be used to craft insightful essays, white papers, reports, and even dissertations without any fear of plagiarism. Educators can also find use for it to help simplify complex information and materials, which can enable students to understand their assignments more easily.
Business professionals can find good use for this rewriting tool as well. After all, it can be a great way to quickly redraft any existing reports, product descriptions, press releases, or even pitches to sound more professional or persuasive, for example. With this mechanism, all you need to do is alter the tone of voice being used, and within a matter of seconds, you will be able to tailor the content to suit your needs.
In addition, language professionals and translators can also rely on ArticleGPT to translate any existing feature into multiple languages with excellent contextual accuracy. This is preferable to the practice of a traditional translator, who typically makes errors and can often fail to convey the message in the context that it was originally intended.
Best Practices When Using HIX ArticleGPT?
In the case of an AI rewriter, you must consider a few key tips to ensure that you are making good use of these tools. Some of these main tips include
Always Proofread
While it utilizes advanced algorithms to revise and generate high-quality content, you must always take the time to proofread it before publishing anything.
While it is rare, the machine-based tool is not completely immune from making occasional rewriting mistakes such as awkward phrasing or incorrect redrafts, especially in the case of overly technical or complex content.
You can prevent this by always taking the time to review the text to ensure everything is conveyed accurately.
Explore Various Writing Styles
A huge advantage of rewriting with an AI mechanism is that it instantly provides you with multiple variations to choose from. In most cases, you will find that there is likely an alternative out there that can successfully convey your message more effectively than the first rework.
To this end, you can simply repeat the rewrite process as many times as possible, practicing different style inputs until you are 100% confident that you have chosen the best possible content to publish.
Tailor the content appropriately
When using an AI rephrase, it is always a good idea to tailor the item to suit your target audience. This means taking advantage of its customization options such as the ability to adjust the tone of voice, word count, language, etc.
In doing so, you will be able to ensure that the blog resonates well with your target audiences, which should guarantee lower bounce rates and more engagement in your posts.
Conduct partial Rewrites
If you want the best possible results when utilizing ArticleGPT, it is always a good idea to revise what you need in pieces rather than as a whole.
This is vital because when you feed the reviewer too much information at once, there is a chance that your article may not be paraphrased effectively enough.
However, you can avoid this by essentially taking paragraphs and redrafting them one at a time, which should ensure that the AI tool doesn't miss the mark anywhere.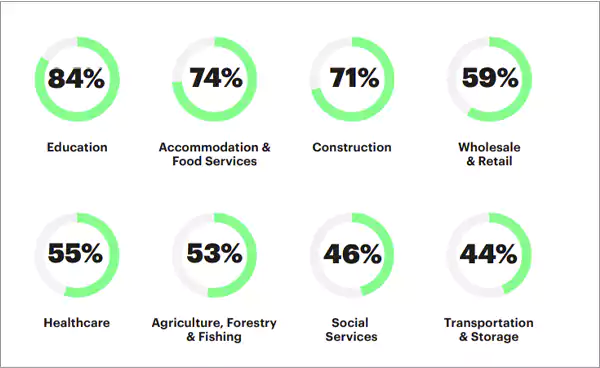 (A report from Accenture lists the share-of-profit increase per industry by 2035, comparing the baseline without AI to the expected profit with AI in place. The sectors that come out on top are:)
Conclusion
When using an AI rewriter, you should always take the time to ensure that the generated content is a perfect variation that manages to convey the original message as accurately as possible.
With this AI, you can rest assured that the final text will satisfy your writing needs, but you also need to follow the tips we've outlined above to maximize its use.
Moreover, you mustn't make the mistake of blindly consuming ArticleGPT as a complete replacement for your human creativity and personal input.
These AI-powered tools are simply meant to help speed up the process, so always be sure to review and make any necessary adjustments to the final drafts. This will ensure that your usual tone and style of writing are still maintained.
---
Related Post