What is SWOT Analysis and How to Use It For a New Website?
Updated On June 30, 2023 | by Alex Jones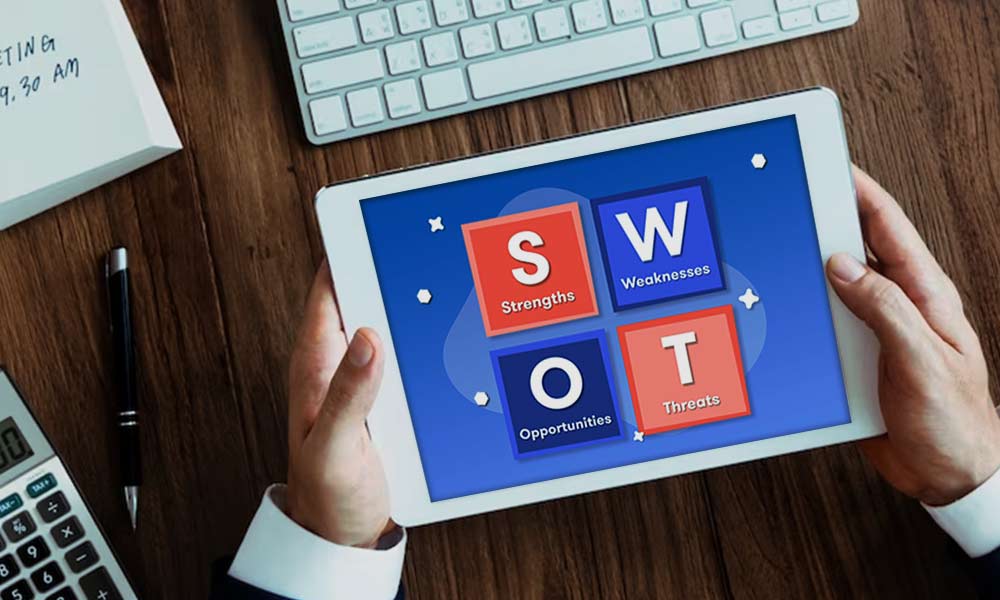 SWOT Analysis is a very effective yet amazing way to analyze the depth and condition of a situation. It can also be classified as a business analysis tool to know your business's current position. This tool includes 4 major components in itself.
The word SWOT actually consists 4 acronyms in itself that go like this:
S stands for Strength

W stands for Weaknesses

O stands for Opportunities

T stands for Threats
From a commercial point of view, you can practice it to analyze the weak points of strengths of your company's website. By working on the weak sections of your site, you can actually improve and polish it in a way that outperforms all of the competition. It will also tell you everything about the all web activity.
If you also want to run a Swot analysis for your site, we can certainly help you with this mission. Just read the article till the end and learn to utilize its potential.
What are the 4 Key Concepts of SWOT Analysis?
As mentioned above, the word is actually an acronym of 4 terms. Therefore in this section, we will tell you what are the real meaning of the 4 key aspects of this whole analysis.
Strengths
As you can guess by the term, strength is dedicated to the positive points that your website is equipped with. All those strong points of your platform assist it to shine in its full glory and also outperform the competition, will be counted under this category.
Those strong points can be the content posted on your site, its speed, graphics and animation, advertisements or any other aspect which helps in attracting user traffic towards the platform. Although, there are some criteria that you need to meet to make your platform faster and more reliable.
Graphic design and animation are one of them. However, it might get a bit expensive to hire a graphic designer for your brand, therefore there are many options for freelance graphic designers who provide excellent services at a great price. They are also highly capable and can meet all your needs and wants.
Even if you have the best designs and layouts for the best user interface on your website, you should still ask these questions to identify the real strong points of your platform:
What makes your site different from the rivals in your niche?

Which feature of your site is most engaging?

What part of my site is the most efficient, user-friendly and easy to use?

Which type of content drives the most traffic?
Answering all these questions will assist you to identify the needs and necessities that will help your business grow online.
Weaknesses
Contrary to the previous point, those aspects of your business profile that are not performing well or are unable to drag traffic towards itself are categorised as weaknesses. Some of the weaknesses of the website can include outdated design, slower loading speed, bad graphics, unorganised content and many more.
You must identify all those flaws and work on them to get your site back on track. Find answers to all these questions below to know the current position of your platform.
What aspects of my site do I need to improve to gain or retain more visitors?

Which part of my site is confusing for users?

Which part of my site has the most complaints about?

What type of content gains the least traffic?
It's okay to have weak spots, but using them as an excuse is not a good thing to do. In order to succeed further in any field, you need to cover up all the flaws and work only on improvements. Moreover, you should regularly analyse the performance and track all the records.
Opportunities
Opportunities are the trends and events that your brand will might go through in the near future. Those trends are classified as opportunities that you need to predict and grab on them for your bright commercial future.
Those trends can be anything, changes in the taste of consumers, certain events, or even a sudden wave in people's emotions can be an opportunity for you. Ideal management must be able to identify these opportunities.
If you are from management but still don't know what to expect from the future, follow these questions given below:
What patterns in online search are pertinent to my sector?

How can I use social media to promote my platform and increase traffic?

How can my platform be made mobile search-friendly?

Can I provide any new goods or services on my site?
SEO in marketing also plays a significant role in pushing your online position forward. You can practice the latest SEO techniques and follow new Google updates to push your content forward on the internet.
Threats
Generally, threats are external factors that are considered harmful to your online platform. These external aspects are generally threats that can include a lack of privacy and security concerns. These concerns can not only downgrade your site but will also lead to the loss of trust among the existing users.
It is recommended to conduct market research and trend analysis. These analyses depict the change in market trends and consumer behavior so that the upper management can get a clear sight.
To further dodge the potential threats that may affect your business operations, you must follow the news and current affairs to know the demographics.
Conclusion
SWOT Analysis is a popular and widely known term in the business environment. It provides a clear and true analysis of the firm and also helps in future growth by identifying the opportunities and threats that the firm might face in the upcoming time.
We hope that this article gave you a clear sight of the subject and you will also try practising this analysis in your monthly meeting and operations.
---
Related Post