8 Ways to Boost the Quality of Your Sound System
Updated On September 28, 2023 | by Manpreet Kaur Sandhu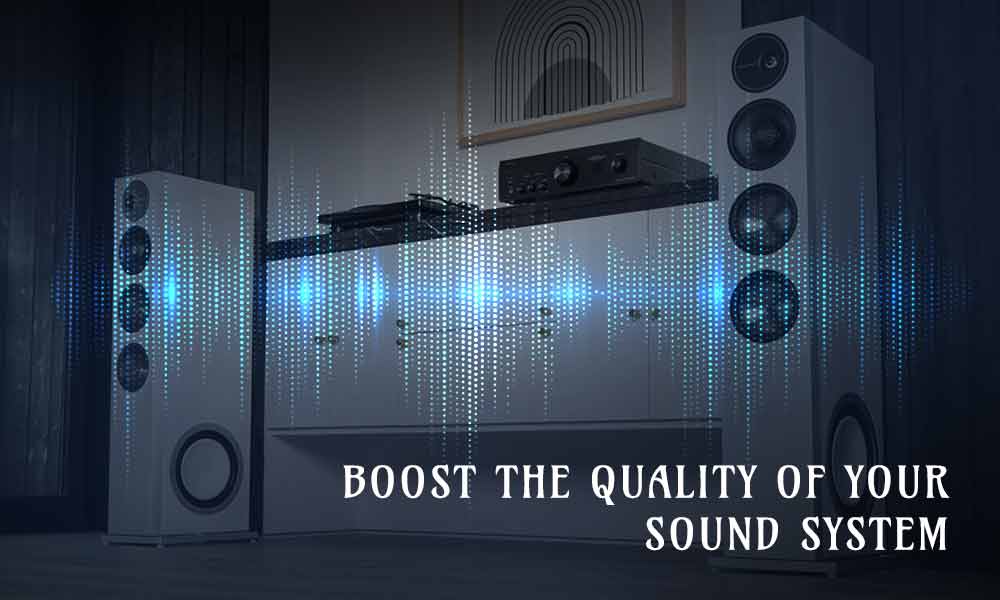 Sound systems are becoming popular for many households these days. Many homeowners show interest in buying one because it provides quality sound while watching TV or playing video games. The best system transforms all your favorite movies and games to a different level.
Investing in a home sound system is expensive, as most people think. But if you see the result, you will always be happy spending your money on a high-quality brand. It will be exciting for your family to watch movies and listen to music while hearing top-notch sounds.
Also, Read to Take a Look at Huawei's Audio Range: Sound Investment for 2023
Assess Your Existing System
If your current sound system is not functioning properly or becoming useless, it is best to make an assessment. Diagnosing the main problem is essential to improve sound quality.
Here are the usual problems to consider:
Incorrect audio cables
Requires maintenance checkup
Poor connection
Loud volume
Distorted sound
Check the warranty; if you cannot fix the root cause, bring it to the manufacturer for repair. You may also contact technical support for your concerns.
Find an Area with Better Acoustics
A good receiver and speakers are part of having good audio quality. The same thing to having a room with better acoustics; it plays a huge role in meeting your satisfaction. Generally, the actual layout and space of your room will have an impact on the overall audio performance.
Types of hard surfaces that produce reflections of sound:
Bare walls
Wood floors
Ceramic tiles
Plastic walls
Glass windows
Arched ceilings can also affect a good listening environment. They often lead to low-quality bass reproduction and blurry images. Rooms with odd shapes matter in producing the best audio, so be aware.
Choose the Best Amplifiers
Amplifiers are useful in boosting the volume of your speakers. It is the most common benefit that easily captures the attention of your visitors and neighbors. Investing in one of the best amplifiers can help:
Upgrade the power of speakers
Boost the volume accurately
Clean up the signals
These additions can function with isolation and become part of your audio configuration. Include a blended amplifier in your system to make the sound even better.
Position Your Speakers Properly 
You must place your speakers properly if you own an expensive sound system. You can only produce quality audio if the position of your speakers is correct. Technological speakers have electro-magnets that reverse electric signals in different sound waves. 
The waves touch the solid surfaces as they bounce off, moving in a specific direction. It would be best to position your speakers in the right spot against your seating location to hear the best audio. The waves must not reverb to produce quality sound.
Diagnose the Settings of Your Receivers
Looking at your receiver's pre-selected settings can help you diagnose the problem to boost your sound system. Before you touch anything, ensure to read and understand the details from the manual. It helps you determine the exact adjustments in the settings.
In the receiver, you easily find the following:
Treble knobs
Control center
Bass
Tuner
Amplifier
Place Your Seats on the Right Spot 
Even if you have a sound system in your living or music room, place your seats in the right spot. Every area inside your house might have a perfect acoustic for your listeners. By positioning your chairs or sofa properly, they will appreciate the benefit of distinct audio quality.
Triangulating your seats is also a good idea to produce a directional sound. To boost the sound quality of your system, make a triangle with equal sides when positioning your speakers. It maximizes the effect of your stereo without overlapping or delaying the sound waves.
Consider Using Speaker Stands 
These particular stands are useful if you have bookshelf speakers. If your speakers sit on a flat surface, improve their sound performance using speaker stands.
Placing your bookshelf speakers on the ground will reduce the quality of sound they produce. Rather than hearing the sound from your ears, it bounces to your feet. You can position your speakers at the exact level and angle using durable stands.
Speaker stands are also reasonable to invest in rather than buying new ones.
Invest in Quality Wires for Speakers
It is optional to spend a huge amount on speaker cables or wires. If you want to improve your audio performance, invest money in quality wires. When you choose, getting cables with the right gauge is essential.
The exact wires can guarantee you hear the right sound from your speakers. Also, the purpose of investing in quality cables is to ensure you get enough current from your sound system. Consider if you can ask an expert to help you.
A Better Sound System for You
Follow the tips provided here for a better sound system while gaming or watching movies with the family. Certainly, you'll find your experience more immersive and enjoyable with a good-quality sound system.
---
Related Post