Enhancing Corporate Mobility: How Portable Projectors Drive Business Success
Updated On April 4, 2023 | by Alex Jones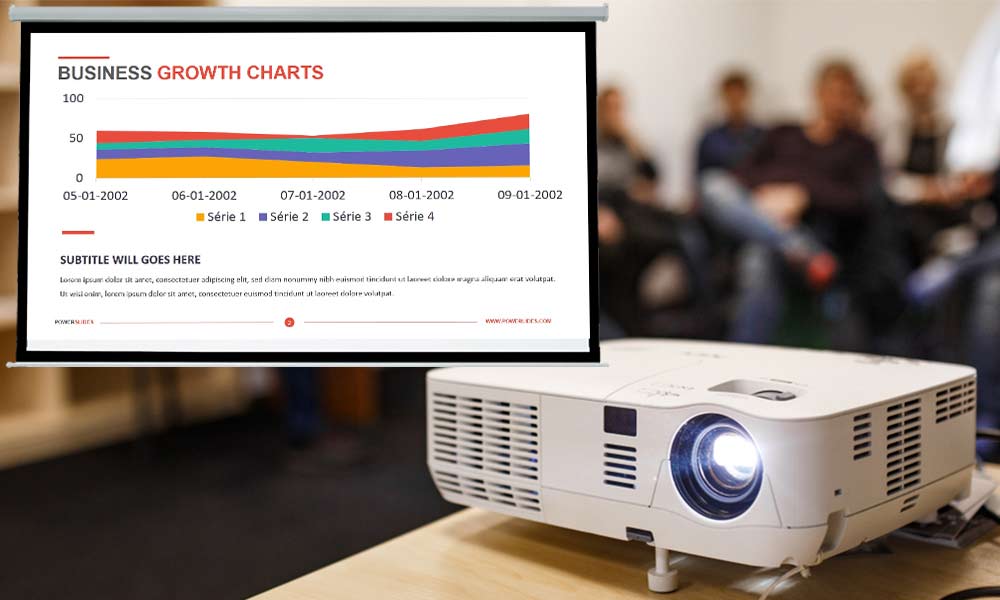 Introduction
Technology is crucial in today's fast-paced business environment for keeping businesses one step ahead of the competition. The portable projector is one such cutting-edge technological advancement. Businesses may interact more effectively and efficiently because of the advantages offered by these small, lightweight gadgets. The many advantages of portable projectors, especially LED projectors, in promoting company success are covered in this article.
Improved Presentation Quality
High-resolution images and movies are provided by portable projectors, particularly those that use LED technology, which raises the caliber of presentations. These gadgets can display clear, vibrant images, ensuring that crucial information is communicated succinctly and clearly. Additionally, because portable projectors have changeable screen sizes, organizations may easily adapt to changing meeting room dimensions or audience numbers.
The ability of portable projectors to work with a variety of gadgets, including laptops, cellphones, and tablets, is another benefit. Businesses can get information from various sources with this functionality, resulting in more dynamic and interesting presentations. For instance, during a meeting with potential customers, a sales team may easily transition between presenting sales numbers from a laptop and exhibiting a product demo video from a smartphone.
Increased Mobility and Flexibility
Portable projectors are exceptionally simple to move and set up due to their lightweight and compact design. Businesses can hold presentations, workshops, or training sessions almost anywhere, including off-site locations and conventional conference rooms. Such adaptability can be extremely helpful in developing connections with customers, partners, and distant team members.
Moreover, portable projectors are simple to adjust to different meeting locations and spaces, allowing firms to maximize their resource allocation. For instance, a business may use a portable projector to present at a trade exhibition with little room or to turn a small break room into an impromptu meeting space.
Enhanced Collaboration and Engagement
The collaboration and involvement in meetings can be greatly improved by the interactive elements and multimedia support that are frequently included with portable projectors. These technologies enable attendees to actively participate, making it simpler to gather feedback, stimulate ideas, or lead group discussions.
Moreover, portable projectors can be easily connected to platforms and tools for collaboration, such as video conferencing programs or cloud-based document-sharing services. Because of this integration, organizations are now able to hold meetings that are both more efficient and successful, regardless of where the participants are situated. For instance, a design team might use a portable projector during a video call to demonstrate a fresh idea to distant coworkers and get their immediate input.
Cost-Effectiveness
Cost-effectiveness is one of the main advantages of portable projectors, especially LED projectors. These gadgets often cost less upfront than conventional projectors, making them more affordable and available to companies of all sizes. Furthermore, since LED technology has fewer moving components and a longer lifespan than other technologies, portable projectors require little maintenance.
Future Trends and Opportunities
Portable projectors are positioned to provide even more advantages to organizations as technology develops. These devices are becoming even more user-friendly and adaptable because of wireless networking and smart capabilities like voice control and app integration that are becoming more widespread.
Furthermore, the development of augmented reality (AR) and online collaboration opens up new uses for portable projectors. These technologies could be used by businesses to develop immersive, interactive meetings, training sessions, or product demonstrations. Moreover, portable projectors are easily scaled to meet the changing requirements of expanding enterprises, guaranteeing their continued usefulness over time.
Easier Customization and Adaptability
Businesses can meet special presentation needs because of the extraordinary adjustability and versatility of portable projectors provide. Presenters can alter visual output settings like brightness, contrast, and aspect ratio to match the lighting in the room and the projected content, enabling effective and professional delivery even in difficult circumstances. Additionally, the HDMI, USB, and VGA input formats that these projectors support enable organizations to connect many devices and display a variety of content kinds at once. Its adaptability makes it simple to incorporate multimedia elements like films, animations, and interactive features and allows for seamless source switching. The result is entertaining, educational, and dynamic presentations that connect with audiences and improve communication.
Conclusion
In conclusion, portable projectors, especially LED projectors, provide a wide range of advantages to enterprises, including enhanced collaboration and engagement, increased mobility and flexibility, and cost-effectiveness. These devices are anticipated to offer even more benefits as technology develops, including wireless connectivity, intelligent functions, and interaction with cutting-edge technologies like augmented reality. Businesses may improve communication, encourage better collaboration, and ultimately succeed in today's fiercely competitive market by implementing portable projector technology. Portable projectors will become more crucial as the business environment gets more dynamic and networked in terms of assisting organizations in being flexible, adaptable, and innovative.
Related Post