What is the Difference Between a Marketing Firm and A Marketing Agency?
Updated On October 10, 2023 | by Kamal
While you might be tempted to use the terms "marketing agency" and "marketing firm" interchangeably, think again!
These words may sound like the same thing, but their meaning can be entirely different. Both these terms are used in different contexts, so it's important to get the terms right. Since everything is searchable and keyword-centric nowadays. So it's easy for us to find out the literal meaning of a term, but not understanding the definitions of the words, can be more troublesome than helpful.
There's a high possibility that you might be advertising your marketing firm as a marketing agency and get the wrong kind of target audience. Similarly, if you are searching for a digital marketing agency, you run the risk of landing at an agency place, and if you don't know the difference, you are essentially signing up for a lot of wasted time.
The misinterpretation or confusion in the usage of the term can cause big trouble, so it's better to be clear with their definitions. Whether you are trying to find a reputable law firm marketing agency in your area or a marketing law agency, here is all you need to know to get any confusion out of the picture.
What is a Marketing Agency?
A marketing agency is essentially a company committed to providing creative and comprehensive marketing services of all kinds, including content creation, social media, and everything in between. Marketing agencies generally offer diverse services and have the appropriate resources to undertake the related tasks.
Quick Tip!
Hiring a marketing agency can help you save tens and thousands of dollars on software licensing and cut down expenses as compared to hiring.
How Does It Work?
They offer a list of services handled by specialists in the field. And they provide each service with a standardized approach. Furthermore, a marketing agency has highly trained marketers determined to attract customers for a client. Here's how a marketing agency functions!
A Range of Services

Marketing agencies offer a wide variety of marketing services, which means you can take advantage of all the different marketing offerings under one umbrella. Many brands seeking marketing-related professional help prefer that, rather than having to seek different services from different places.
Standardized and Less Personalization

Since there is a standardized process that the agency confers to, they have their methods and strategies already laid out, which leaves little room for personalization, meaning you might have less flexibility in terms of customization.
Low Level of Involvement

A marketing agency needs little to no involvement, which might be great for business owners who do not have extra time to spare and don't necessarily want to be involved with the marketing strategies. However, if you are a business owner who likes to have a lot of say in marketing strategies, you might want to go for marketing firms instead.
Special Assistance

As most of the people handling your business are already industry experts in their profession, they might have a strict way of doing things. This means you might not get specialized assistance or will not consider clients' requests at every move.
Marketing agencies provide more diverse services, where you can find multiple marketing-related services under one roof. Here, a single company will meet all your marketing-related needs. Now, quickly take a look at what a marketing firm is and its working style in the subsequent section.
What is a Marketing Firm?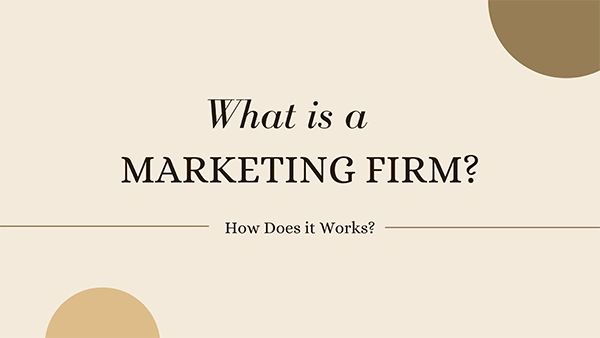 A marketing firm is a comparatively smaller group of professionals who are marketing experts and cater to various services. They generally specialize in a few specific areas of the marketing world that they excel in and do not handle multiple ranges of marketing tasks. Rather than comprehensive services, they focus on being industry experts in various specific marketing services.
How Does It Work?
A marketing firm is different from a marketing agency in terms of the services they provide and their working style. Marketing firms are better because they are highly focused, and smartly use advanced marketing software to get the desired output. Below is a detailed analysis of the working style of a marketing firm: –
Relationship Building

A marketing firm enables clients to build more relationships and have a more personalized experience. Every move is calculated, well discussed, and taken with having the client in the loop.
High Flexibility and Involvement

If there is a problem, a marketing firm offers the clients a lot of flexibility to take a different approach or make sudden changes to solve the issue effectively. Every client is different, and so is the strategy devised for each client.
Targeted Focus

Marketing firms offer the clients a targeted focus, leading to a more immediate return. In contrast, a marketing agency might have a bigger picture in mind, while a smaller company might not necessarily see the point of or claim the advantage.
Innovative Approaches

Marketing firms offer more innovative approaches and individual solutions to each client. With marketing firms, there is room for plan BS, new changes, and curated approaches that will benefit the client more personally.
Final Verdict
While the market is abundant with law agencies and firms, which can enable you to get the help you need, choosing the right place requires a lot of research. If you are looking for a law firm marketing agency to help you get those customized marketing solutions, look no further than Legal Marketing Strategy Pros.
---
Related Post