Wordle: Sedordle, Kilordle, And Other Alternatives
Updated On January 24, 2023 | by Vedwik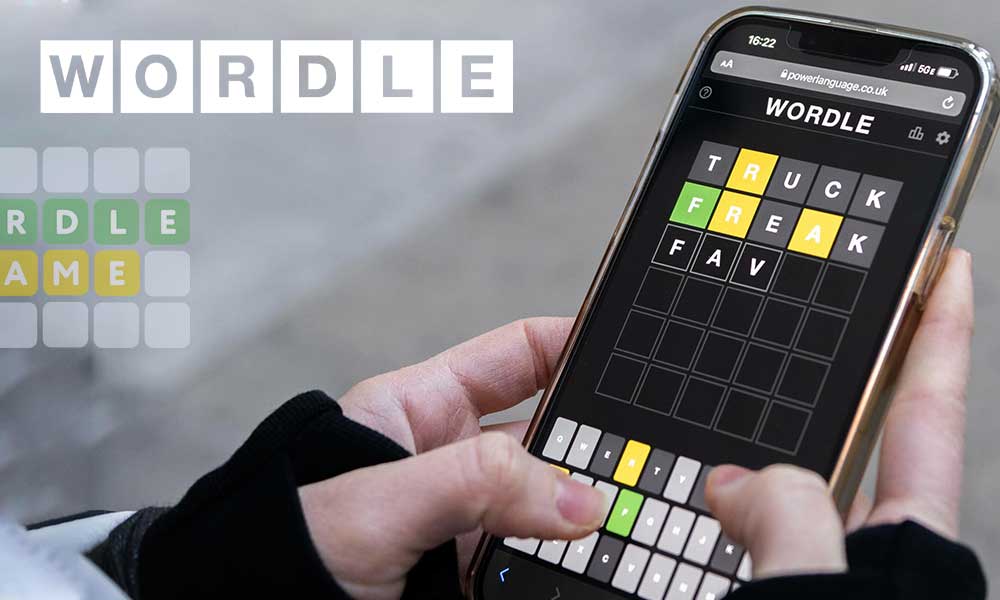 Do you have a bond with words? Are you always enthusiastic to increase your vocabulary? Congratulations! You have come to the right place. To solve your quest, I have brought some very useful online word games which can be played daily for free.
You will get to know about Wordle, and its alternatives such as Sedordle: Sixteen Word Wordle, Kilordle Game, and many more.
Playing them will surely sharpen your vocabulary and thus intellect. Want to know how? Let's dive into the write-up to discover the answer.
Wordle: Special Features, Process, Tips, And Tricks
Wordle, discovered by Josh Wardle, a software engineer from Brooklyn, is an online word game that people love playing on a regular basis. Every day they get a fresh puzzle that has to be solved using trial and error or elimination methods.
Special Features
There exist two prominent reasons behind its increasing usage:
Available since October 2021, this daily word game, Wordle, is free of cost. The only thing you need to do is head on to the website, guess the words and that's all required for a day. Follow the same process constantly and enjoy it.
Furthermore, with its recently added "Share" feature in mid-December of 2021, users have the authority to share their performance results on different social media platforms.
The above leading reasons explain why Wordle is played by millions of people.
Step By Step Guide To Play Wordle
To play Wordle, you are supposed to:
Open Wordle's website. A 5-wide by 6-long white empty grid will be displayed. Now, it's all the art of guesswork.
Guess every alphabet and place it accordingly in the respective box. After typing the 5-letter word, press "enter".
Type any random five-letter meaningful word from where the game starts actually.
After you type it, the color of each box changes. Let's see what those colors mean individually:
If the box turns green, it denotes that the letter exists in the word and is placed in the right place.
If the box turns yellow, it means the letter exists in the word but its position is wrong.
If the box turns gray, it shows the letter typed doesn't exist in the word.
Tips And Tricks For Wordle
Let's go through some useful tactics to play Wordle wisely. Applying them while you are playing can improve your performance which can bring you closer to your success in the game. They are as follows:
Start with a random meaningful word that consists of vowels.
A common word with a minimum of two vowels is a good approach to initiate as it can help you win the game in a few guesses. For eg water, abode and pride are good options to start.
Try the traditional approach
Think about your school days. Use pen and paper. On the paper, write down all the right-placed letters of green tiles and leave the remaining empty. Noting down the letters and other clues will make you guess the word quickly and thus you are able to win without losing a try.
Take the aid
Some of you may see this as a type of deceit but it's just another trick to win the game. Herein, you have to play the game on two different gadgets.
Even if on your fifth attempt, you couldn't get close to the clue, it's high time you should use your other gadget and insert the same information available from the first gadget to find the exact word. Let's assume if this too doesn't work, take help from five-letter databases available online such as "Best Word List".
Is There Any Wordle App Exist For Android or iOS?
You may probably find "Wordle" results in Google Play Store or iOS App Store search results, however, remember to not mistake them for the original source because they are replicas of the real version.
Remember that Wordle is purely a browser game that is available online. Paying it through any third-party app is surely a scam that is trying to monetize through somebody else's efforts.
Sedordle: Sixteen Word Wordle
Worlde enjoys a special place in the gaming world but players are never satisfied with just one gaming source. They need variations of a specific game and thus Sedordle, Sixteen Word Wordle, has come into being.
Another reason is the limitation of time set in Wordle. You can't play the game multiple times a day in Wordle. Hence, with the growing demand by users, Sedordle game has been invented.
Sedordle game lets you guess 16 words in one single round and thus it is called, "Sedordle: Sixteen Word Wordle".The game is very balanced in terms of guessing the words in every round due to which the player enjoys the process without getting mentally exhausted. Hence, Sedordle game may seem comparatively easier to Wordle because it gives ample opportunities to guess in various combinations.
Talking about Sedordle and Wordle, both are similar in various aspects with the only difference in the number of words a player has to guess.
How Does Sedordle Work?
Sedordle game works in the following manner:
You get 21 attempts to guess 16 words. Initially, the number of chances may seem low but as you play the game regularly, you will be able to play comparatively better due to which you can easily solve a minimum of four puzzles within limited chances.
With the given hints, any amateur is advised to proceed slowly. On the contrary, a regular player of Wordle is not required to do so as he/she will find Sedordle quite easy as compared to wordle.
The coding used in both games is the same. However, in Sedordle, players can't access any share button, hence, they can't share their performance score on social media.
Guide To Play Sedordle
The method to play the Sedordle game is very straightforward. Let's see how it is played:
A good web connection should be connected to any of the devices you are using including smartphones, Pcs, tablets, and many more.
As you open a web browser, search for Sedordle's website.
After you open it, you will see 16 grids with 105 columns each.
Again, likewise in Wordle, you will start by typing a random 5-letter meaningful word.
The colors will also change the same way as they change in Wordle. With the type of change in color, you can have a close idea regarding how accurate your word is.
Kilordle Game: The Toughest Substitute
Kilordle Game is the toughest substitute for Wordle. The game demands you to guess 1000 unique words simultaneously instead of solving any single word that becomes almost impossible to solve. Due to this sole major factor, the chance to win this word game seems negligible.
Besides, once you enter a word in a tile, it is blocked. This restricts you to edit any letter you typed before. Hence, the Kilordle game involves the attachment of security layers to every typed letter by means of an invisible lock.
How Does Kilordle Work?
After opening Kilordle's website, multiple 6*5 grids with minimalistic details on-the screen keyboard will appear to your view.
You type your 5 letter word (through guess) and then click "GO Button". Change in colors of tiles will take place in the same way as explained in Wordle.
Tips And Tricks for Kilordle
The words you choose in the beginning are very important in this game. Hence, selecting them is the most crucial decision. Mental Cleverness plays the game here. It's suggested you start with a word consisting of maximum vowels. It can help you form longer words.
It's not a mere process of making words only. Without blindly running into making infinite words, the involvement of the right strategy and planning is essential also.
You won't be getting any clues that can help you find the desired word. The logic is simple here. You have to trust your mental ability only, all the time, even more, when you are stuck in between the game.
Practice as much as possible. Pour your infinite creativity and never be afraid to see its consequences. After all, it's a game of the most creative minds.
Carefully think of the right letters to make a few mistakes. The fewer the mistakes, the more chances there are to win the game.
One great thing about Kilordle is that it is free of cost. Additionally, there are not any kinds of app purchases, i.e, to make your game easier, you are not able to purchase any special feature. You only have to put your efforts, and creative mind to use your brainpower well if you really want to win the game. There is no other way.
Other Alternatives To Wordle
Millions of people love playing Wordle regularly and sharing their scores on social media. With its increasing usage, the game has become a favorite passing time.
The game is challenging to some extent. As soon as you get a hold on the basics of the game strategy, then it becomes smooth for you to win almost every time in one or two go.
However, what if you want to experience something more difficult to quench your thirst for improving mental power? You will be glad to know that there exist more challenging levels of word games that let your brain pressurize for hours and figure out what letters possibly can be fitted.
Let's go through some of the tough alternatives to Wordle that will push your brain to discover your unlimited thinking and analytical power:
Absurdle
Similar to Wordle, Absurdle is also a daily word game that can be played on any web browser for free. However, the game becomes insane when the word is changed with every guess in between the tasks. This is one of the unpleasing factors which diminishes its appeal.
It starts with a display of five blank squares with an online keyboard on the screen. You have to fill each block with the correct letter so that you are able to see the whole row in green color.
If you guess the letter, but its position guessed is not correct, then the tile displayed will be yellow in color. At last, letters will be highlighted in black color if they are not a part of the word. Every time you guess a word, new blank rows are loaded on your screen.
Special Features Of Absurdle
Since, Absurdle changes the word in every guess you make through a spinning mechanism, you get a chance to think out of your limited thoughts and increase your vocabulary.
You can give unlimited attempts to play this game and hence, there is nothing that can hold you back in this regard.
Any kind of promotional stuff is not displayed because of which there is no chance of getting distracted. You can play attentively.
For those seeking a challenging game, Absurdle is perfect. They can play the game in various modes such as time mode, challenge mode, and many more.
Dordle
Since, Dordle demands the player to guess two words at the same time, it's also known as the "double version of Wordle".
However, being a double version of Wordle, it doesn't double the number of attempts. Instead of six attempts in Wordle, you get only in addition, ie, 7 instead of six. This critical choice compels you to carefully select your strategy while you are guessing the words. In order to win quickly, you have to think about more clues that can increase your chances of solving the puzzle.
Steps To Play Dordle
To play Dordle game, refer the following step by step guide:
As you open the Dordle's website, 2 horizontal grids will be displayed on your screen. Start by entering a five-letter meaningful word. Colors will change to green, yellow, or gray depending on the accuracy of your letters.
Additionally, there is a Free Dordle that is an endless mode.
It gives players access to play unlimited new puzzles daily.
They can also utilize more time to develop strategies and implement the same using various combinations.
Octordle
The strategy used in Octordle is the same as Wordle but the level of difficulty is quite higher than the latter.
After you open Octordle's website, you have to guess 8 five-letter words in 13 attempts concurrently instead of guessing just one word in six attempts. This is a unique feature that was absent in Wordle.
Additionally, you can play Octordle daily with unlimited content in different modes available in the game.
You can either play Octorlde for free or pay to receive additional features through which you may become an Octodle gold member.
How Does Octordle Work?
The Octordle game works in the following manner:
You use the on-screen keyboard with the help of which you type 5 letter words. You get to know if your word is right or not depending upon the conversion of specific color changes.
Let's suppose you have guessed one word out of eight. That one word will be blocked then and you can continue guessing the rest of the clues.
You feel the difficulty while keeping track of every letter in each grid. It gets impossible at times to observe every grid on the same screen. To have track of all, you have to scroll down continuously to check any clues you have.
Semantle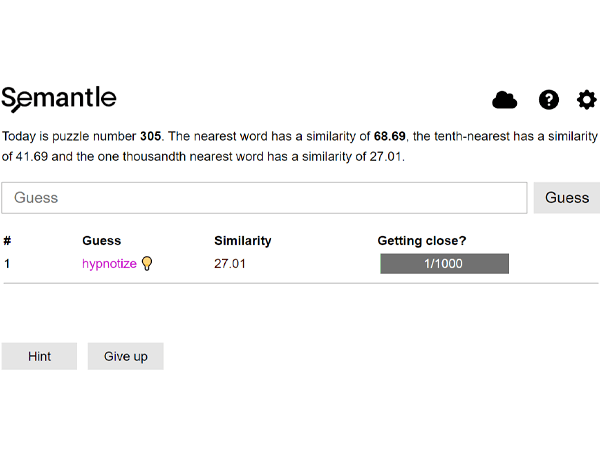 What makes Semantle challenging is its rule of guessing through the meaningful words given in the hints section. You are supposed to analyze the hint and find the words that mean something similar to it.
Special Features Of Semantle
The game offers you to play in teams also which enhances the game's uniqueness. To try this option, click Play with friends button available at the top of the screen. Get the code and give access to the required members via email or text message.
Additionally, if you use Twitter, you can connect your account to the game. Doing this will help you to save your progress through which you can see the real statistics of how you play individually and how you play in a team.
What Difference Makes Sematle Difficult To Win?
Fortunately, you can give as many attempts as you want to reach the final solution. Still, winning Semantle becomes difficult due to the following reasons:
Any clear clue is not given. You yourself have to give your best while trying to come closer to the right word.
Making guesses sometimes won't work. Let's suppose you are given the hint," happy", then using words say content, delightful, may not work definitely and hence can't guarantee you a high score.
The algorithm behind the game is very different from others because of which the game becomes intricate which nobody could have imagined in any word puzzle game.
Conclusion
Wordle, the daily word game is truly loved by all the word gamers. To diversify more, developers have come up with several new variations of word games with more and fewer difficulty levels so that the users don't remain stuck to just one game.
This way online gamers are also able to enhance their gaming skills by widening their mindset thus increasing their knowledge of infinite words.
Of all the Wordle alternatives, Sedordle is the easiest and Kilordle is the toughest. You can choose to play the game according to your thinking ability, imagination, and vocabulary.
Next, Read to Know- How to Play Popular Slope Unblocked Game 2023
---
Related Post