How to Activate Voot on Smart TV & Other devices
Updated On January 24, 2023 | by Sejal Mehra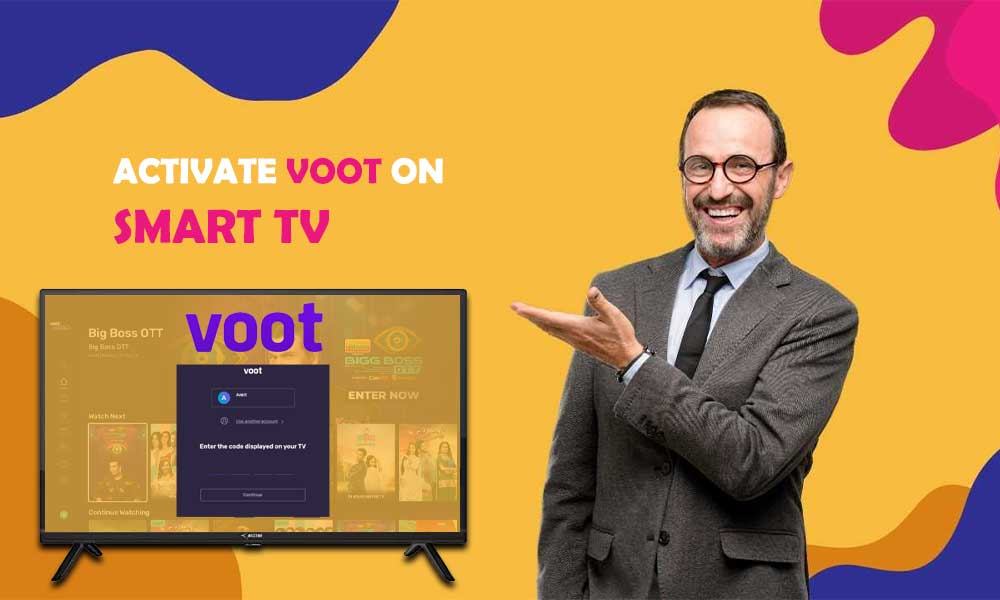 Voot is a paid over-the-top streaming service available in India that is owned by Viacom18. Viacom18's advertising-driven video-on-demand platform was introduced in March 2016 and is accessible as a website for desktop use as well as an app for iOS and Android users. It can also be accessed through Chromecast, Apple TV, Android Smart TV, Roku, Apple TV, and Amazon Fire TV.
It is only available in India, the United States, and the United Kingdom and offers more than 40,000 hours of video material, including programs from channels like MTV, Nickelodeon, and Colors. Kannada, Marathi, Bengali, Gujarati, Odia, Telugu, and Tamil are just a few of the various languages in which content is available.
Voot launched a paid subscription service named Voot Select in February 2020. Only paid subscribers have access to Voot Original shows, and paying users can watch their favorite TV series a day before it is streamed on television. 
Also, Read: How to Get CBS on Roku and Other Devices Through cbs.com/tv/roku?
Activate Voot Application on Smart TV.
Who doesn't like to watch their favorite shows and movies on the big screen? We all do, and Voot understands our wishes well. Therefore, it is accessible on all smart TV. Let's comprehend how you can activate the Voot application on your smart TV in just a few steps.
On Android Smart TV
If you haven't already, download the Voot app for Android TV from the Google Play Store.
Once the app has been installed, open it.
You will be requested to enter your Voot account using the activation code displayed on the screen after selecting any material in the app.
After this, grab your mobile phone or laptop and head over to www.voot.com/activate
Once the website page loads, log in to your Voot account with the registered mobile number.
Once you're in, the page will ask you to enter the code displayed on your TV screen.
Enter the mentioned code and select 'continue' to watch Voot's vast content library on your smart TV.
On Apple TV
Switch on your Apple TV and navigate to the 'Apps' section.
Now tap on the 'App Store' icon to open it.
From here, search for the Voot app and install it if you haven't already.
Open the Voot app on your Apple TV and tap on any content you would like to watch. It'll prompt you to log into your Voot account through the activation code displayed on the screen.
While keeping the TV screen on, open the activation website on your phone or PC and log in with your registered mobile number. You can sign up for the subscription from here as well.
Now enter the activation code on the next screen and hit 'continue.'
Within the next couple of seconds, the content will start playing on your Apple TV.
On Amazon Fire TV Stick
Switch on your TV with the Amazon Fire TV Stick attached.
Now, make your way through all the apps and open Voot. If you don't have it pre-installed, download the app from the Amazon store.
Once installed, open the Voot app and tap on any movie or show you'd like to watch.
The app may ask you to log in using your Voot subscription by displaying an activation code.
To use this activation code, enter Voot's activation website www.voot.com/activate on your mobile phone or laptop's browser
On the webpage, login with your registered Voot subscription mobile number, and on the next screen, enter the activation code displayed on the TV's screen
Once entered, hit continue and start binge-watching content on your TV.
Also Read This to Know: How to Activate USANetwork on Devices
On Samsung Smart TV
Go ahead and switch on your Samsung TV.
Then, go to the system's App Store and download the Voot app if you haven't already.
After the app's installation, open it and tap on any random content to get to the activation screen that'll display a small code.
To get full access to the app, head to Voot's activation website and log in with your registered mobile number.
Once you log in, on the next screen, enter the activation code.
The content you previously selected on the TV will begin playing after verifying the code, indicating a successful sign-in to your Samsung smart TV.
On Jio Fiber Set-Top-Box
There are various methods for logging into Voot depending on the JioFiber plan you selected.
You can access Voot using Jio's Auto login process if you have a Jio Fiber plan that costs Rs 999 or more because the aforementioned subscription is a feature of your plan that becomes active when you buy or renew the broadband plan.
However, users who have opted for Rs 399 or Rs 699 plans have to use their existing Voot subscription in order to enjoy the content present on the platform.
On LG Smart TV
On your LG smart TV, look up the Voot application in order to install it.
If you are unable to find it, Go to the App Store and start downloading it from over there.
Upon installation open the Voot app and tap on any content
An activation code will be displayed below, and you can use it to access the app.
To log in with your Voot subscription, go to Voot's activation website on your phone or PC.
Enter the activation code shown on the TV screen after the website loads using your registered mobile number.
After entering the code, hit 'Continue' to catch up with your ongoing web series but on a bigger screen.
How To Apply for The Promo Code Via Coupon Websites
Watching your favorite shows on OTT platforms is always fun. However, the subscription fees you're supposed to pay to watch those shows can be expensive sometimes. But worry not! With various promo & coupon codes, you can get discounts on fees. All you have to do is apply the coupon code while paying to redeem it.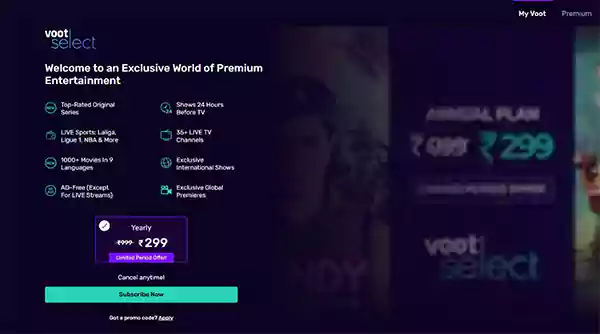 Here are some of the online websites from where you get the coupon code:
How To Resolve The Voot Not Working Issues
It is very common in all the OTT Platforms to sometimes not work even when your subscription is live. In this situation, the content doesn't appear on the screen. So, here are some steps you can go through to resolve such issues on Voot.
• Refresh your website what you are using
• Clean up your cache from your browser
• Restart your browser
• Restart your smartphone
• If the above-given steps nothing works, then visit "support@voot.com"
Conclusion
Voot is a prominent OTT Platform with many known Indian shows such as Kaisi Yeh Yaariyan, Bigg Boss, Jhalak Dikhla Jaa, etc. International shows like Shark Tank, The Man Who Fell To Earth, etc., and movies, cartoons, sports, and reality shows in various genres, are a full packet of entertainment. It is among the top subscription OTT streaming applications which are consistently improving and winning the hearts of its million users.
For new users, activating this app on your devices can be confusing but hopefully, this article could help you in solving all your queries and make things easy and simple for you.
---
Related Post