Introduction to USPS Skins in CS2
Updated On November 1, 2023 | by William Adley
In the diverse and exciting world of video gaming, aesthetics often play a major role in player engagement and enjoyment. Among the most desired aesthetic elements are the virtual 'skins'.
Especially in first-person shooter games, like Counter-Strike: Global Offensive (CS:GO) or the new version of CS2, skins have significant importance. Not only do they add a layer of visual appeal to the gameplay, but they also serve as a form of digital currency and a status symbol among players.
Our focus here will be on USPS skins, a particular class of pistol skins in CS:GO, prized by players for their striking designs and varying rarity levels.
Understanding the Variety of USPS Skins
CS:GO offers a wide array of USPS skins, each with unique aesthetic features. The skins range from minimalistic and sleek to vibrant and elaborately designed.
In terms of color schemes, players can find USPS skins in almost every hue, from the understated 'Torque' with its cool blues and blacks to the 'Neo-Noir', a skin that combines a moody noirish palette with dramatic splashes of pink and blue.
Some USPS skins even come with special effects, such as 'Kill Confirmed', which features a red skull design that seems to glow when viewed from certain angles.
DID YOU KNOW?
In CS2, if a player leaves mid-game, their name will still be displayed in the rankings.
How Do USPS Skins Impact Gameplay?
Meanwhile, USPS skins in CS:GO don't grant any direct advantage in terms of gameplay mechanics; they do carry a different kind of impact. Skins can influence player strategies indirectly.
For instance, owning a rare or sought-after USPS skin can confer a sense of prestige and a psychological boost, which can encourage bolder play styles.
Also, the unique appearance of different USPS skins can offer an element of distraction or intimidation against opponents, especially in competitive play.
The Most Popular USPS Skins
The popularity of USPS skins is often determined by their rarity, aesthetic appeal, and notoriety within the gaming community. The 'Cyrex', notable for its futuristic red and black design, and its record '
'Road Rash', a popular skin that features a hyper realistic depiction of damaged and scratched chrome, is frequently seen in matches due to its eye-catching design and distinct appearance.
Some skins like 'Kill Confirmed' and 'Neo-Noir' have also gained recognition among players, not only for their aesthetic value but also for being the signature skins of a few popular players.
How to Acquire USPS Skins?
Obtaining USPS skins in CS:GO can be achieved through various methods.
One of the most common ways is through in-game weapon cases which, when opened with a purchased key, grant a random skin. USPS skins can also be acquired as random drops at the end of a match.
Another popular method involves the use of online trading platforms or marketplaces like opmarket.com, where players can buy, sell, or exchange skins using real money or digital currency.
However, it's vital to only use reliable, secure platforms for these transactions to avoid potential scams or unauthorized transactions.
Tips and Tricks to Maximize Your USPS Skin Usage
To fully make the most of your USPS skins, consider various strategies.
Use their aesthetic appeal to showcase your taste and style as a player. Ḥ
Rotate your skins periodically to keep your gameplay fresh and interesting.
Trade your less preferred skins with others to constantly curate your collection.
A key factor to be aware of is the fluctuating market value of skins. Skins can be an investment; their prices can increase based on demand, updates, or in-game changes.
So, it's beneficial to stay informed about market trends to leverage their value effectively.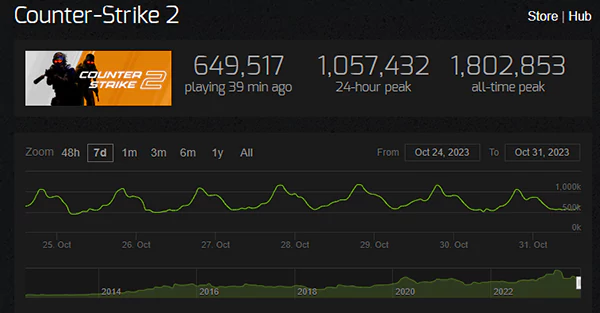 Subtitle: CS2 Live Player Base Statistics in the last 7 days
The Future of USPS Skins
Like a lot of gaming-related topics, the future of USPS skins in CS:GO is bound to be dynamic and exciting. And based on current trends, we can expect further diversification in their designs and visual effects.
The CS developers team has been known to take player feedback and popular culture influences into account when creating new skins. Therefore, it's probable that we'll see more thematic and reference-based skins.
With the ever-increasing popularity of e-sports and competitive gaming, the prominence and value of USPS skins are projected to grow in the future.
Conclusion
USPS skins are a core part of the CS:GO experience, adding both visual appeal and strategic depth to the gameplay.
With their varied aesthetics and potential value as virtual commodities, USPS skins will continue to be a significant feature for players.
So, no matter if you're a professional CS: GO player, a gaming enthusiast, or someone just starting out on their gaming journey, the world of USPS skins offers intriguing possibilities to explore and enjoy.
---