AWeber: Unlocking the Power of Email Marketing
Updated On June 29, 2023 | by Bill Wilson
There are various elements that play crucial roles in maintaining and sustaining the venture for a long period of time. Management, execution, workforce, and many other factors determine the success and progress of the firm.
One of these crucial components for future growth is marketing. Businesses across the world leverage huge profit rates just by using this strategy in their promotional campaigns.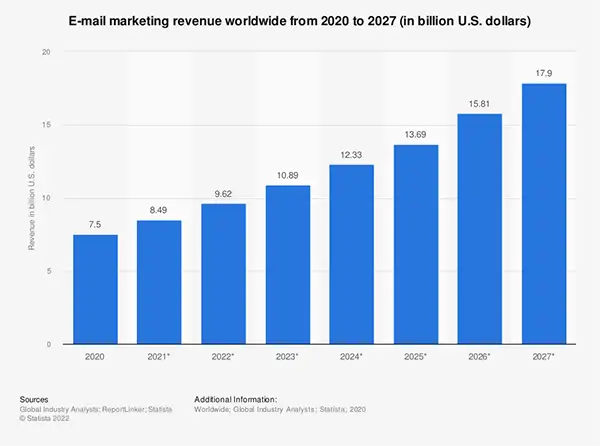 With this graph, you can evaluate how big this thing is getting in the current situation. Also, the prosperous future it is carrying with itself. Primarily email marketing. Therefore, in today's article, our main focus will be discussing its importance and advantages.
Unleash the Potential of Email Marketing with AWeber
Email marketing has proven to be one of the best alternative ways to market your brand and policies. To this day, there is nothing that seems to replace it in the near future. Various roles that this strategy plays are engaging with consumers, driving conversations, and building long-lasting relationships with them.
Out of the pool of various marketing service providers, AWeber is the biggest fish that you can find. Their amazing service and their reliable-cum-feature rich platform make everything easy and efficient for you. Their marketing campaigns and excellence in running ads will assist your brand in scaling up its awareness and marketing its products and services.
Today we are here just for you to present all the details and policies that and highlights of all the offers that you might be enjoying. Since we are talking more about AWeber in this article, you can see a good overview of other similar services here.
Seamless Email Automation

AWeber streamlines the process of marketing automation, allowing organizations to communicate with their subscribers more effectively. AWeber allows you to create automated campaigns that send targeted messages depending on specific triggers and client behavior.
Consider an online store that wants to offer a personalized welcome message to new subscribers. The shop can use AWeber's automation tool to produce a pre-designed welcome mail that is automatically sent to each new member upon sign-up. This helps to make a good first impression and develops a relationship with the customer right away.
AWeber's automation features extend beyond welcome messages. Assume the store wants to send a follow-up mail to customers who have already made a transaction. They can use AWeber to set up an automatic campaign that sends a follow-up e-mail a few days after the transaction. This allows the shop to show gratitude, provide helpful information, or make product recommendations that are linked to the consumer's needs, thus increasing customer happiness and driving repeat purchases.
AWeber's automation tools also include behavioral triggers. For example, the company may set up an automated campaign that sends targeted mail to customers who abandon their shopping carts, by tracking client behavior and sending emails in response to particular behaviors.
Robust Template Gallery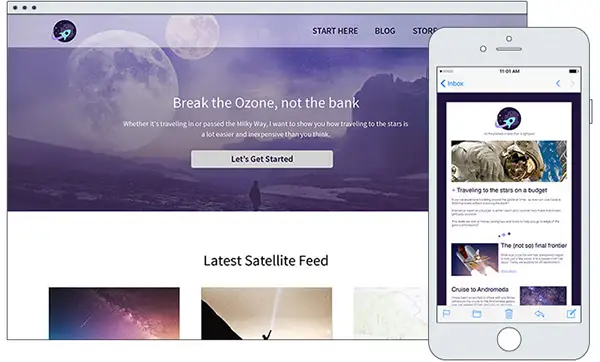 Emails do not have to be boring and monochromatic. More colors and designs and layouts will make them more appealing to readers. AWeber offers you various captivating designer templates that will surely drag the reader's attention.
More to that, you can also customize them with their mobile-responsive features. That will enable you to run your campaign your way.
Audience Segmentation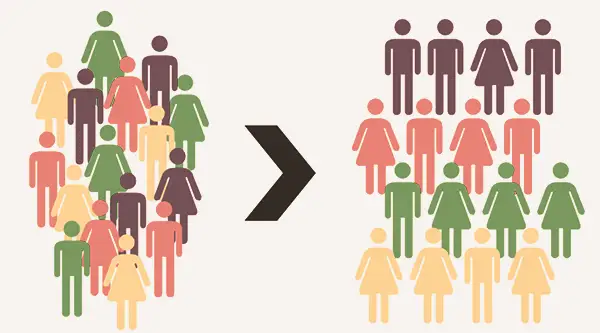 As you can guess by the name, audience segmentation refers to segmenting the audience of your business into different groups. With AWeber's advanced segmentation feature, you can easily categorize your user base depending on various factors of your choice. For instance, demographics, purchase history, engagement levels, and more.
Businesses may design highly targeted messages that resonate with certain subsets of their audience by utilizing audience segmentation in AWeber. For example, a clothes company can segment its subscribers depending on gender and send personalized emails highlighting products that match the tastes of each category. This level of personalization improves the recipient's experience and raises the likelihood of engagement and conversion.
Furthermore, firms can use audience segmentation to send relevant material to recipients based on their purchasing history. For example, an online bookstore can categorize its users as fiction readers, nonfiction aficionados, or followers of specific genres. The bookshop can propose new releases, give unique discounts, or share book recommendations that correspond with the interests of each segment by personalizing their email messages to each segment's interests.
Behavioural and Tracking Analytics
When it comes to business operations, data might be the most significant thing. Data over anything can give them ideas and insights on what can bring the most revenue and online traffic possible. By tracking metrics such as open rates, click-through rates, and conversion rates, businesses can dive deeper into understanding their audience's engagement levels and preferences.
AWeber can track the performance of your email campaigns. By analyzing open rates, businesses can determine the success of their subject lines and overall email content. The response and insights of call-to-action buttons are tracked by the click-through rates. Conversion rates allow businesses to evaluate the impact of their campaigns on driving desired actions, such as purchases, sign-ups, or downloads.
Integration and Compatibility
By effortlessly integrating with multiple third-party platforms, AWeber recognizes the necessity of a cohesive marketing strategy. This integration enables firms to integrate their email marketing efforts with other critical tools, so improving their total marketing environment.
Businesses can instantly sync customer data, purchase history, and order information between their online store and AWeber by integrating with e-commerce tools. This integration allows for personalized email marketing based on consumer behavior, such as contacting clients who have abandoned their shopping carts or providing product recommendations based on previous purchases.
Conclusion
In this era full of startups and business trends, the ways to run daily operations have changed a lot. One of those operations is marketing, under which email marketing shines out in its full glory. AWeber is one of the best platforms serving you with this facility of marketing your campaigns and promotional advertisements.
Various customizations and automation in templates enable you to get the best-fitted outputs to you with complete satisfaction.
---