Top 10 Password Manager Which Are Ruling 2020
Updated On December 19, 2022 | by Ankit
Password Managers are totally the talk of the town nowadays. I was very curious to try all of them and know are they really worth the hype? After using around fifty password managers I came across the fact that some of them are just looting the money of the users and not justifying it at all. So I went ahead and curated a list of top ten password managers.
Here you get the insight overview of every option. I have personally reviewed them and none of them paid anything to me. It's just my experience that I want to share with my audience.
P.S: After using around 50 password managers, I got to know that some of them are of no use, but I don't know why many big websites are recommending them to their users. However, I have just listed the password managers that are affordable, handy, and completely secure. So, the comparison of all password management software is based on all fair factors.
So, people ask me "what factors did I consider while reviewing the products?". The answer is here. I have considered all the below-given points while analyzing all the password managers of 2020.
Security: Password-managers is all about security and hence encryption settings for a password manager should follow the 256-bit AES encryption. Apart from that, additional security settings such as Two-factor authentication and the zero-knowledge protocols are must in an ideal password manager.
Feature-list: From file storage, web form filling, secure password sharing, a VPN, to even dark web monitoring; the features of the password manager should be impressive enough to appeal to the users.
Interface: No matter how advanced features are available in a password-manager, If everything is not organized in a proper manner, it would be a waste. Hence the interface should be intuitive and easy to navigate.
Customer Care: Customer care facilities tell a lot about the password manager. The brand should be serious about serving the solution to the problems of users. Customer support ranking is mainly determined by factors like helpfulness, response time, platforms, support types, and language availability.
Value for money: the password manager should fit in everyone's budget. And, what value you get from the money you pay is very important. So, the password-manager you are choosing, should justify its cost through its features, performance and security.
The top position is secured by Dshalane and there are plenty of reasons behind it; first of all, it has been consistent for a long period of time and has always stood-out. Its outstanding performance makes it No.1 password manager of all time. We are in 2020, and we still have no rival that can challenge the position of Dashlane.
Features:
Dashlane has the finest blend of features. There are very potent features like:
Two-Factor Authentication (TFA): It offers optimum security by offering support to all TFA apps such as Authy, FreeOTP, and Google Authenticator. Additionally, it includes biometric identification and USB authentication through YubiKey.
Dark Web Monitoring: Dashlane keeps a consistent track of your data on dark-web. If anything like logins, financial data, or ID info is sensed to be stolen, you are notified immediately. So, it won't be an exaggeration to say that Dashlane can enter the depths of the web, where you can't even imagine getting yourself. Hence, it is an excellent guard for your information.
Virtual Private Network (VPN): We tend to use VPNs every now and then and hence a password manager must be a decent VPN software. Apparently, Dashlane has the most wonderful VPN service included. It works perfectly in the case of geo-restricted streaming. The VPN of Dashlane neither slows down your internet connection nor does it store any of your browsing data.
Highlights:
While we talk about Dashlane, it is one of the unique kinds, because the Password Changer of this, enables you to remember one password instead of hundreds. Next, it is available in two forms i.e. Free and Premium. You get so much at a very affordable price such as TFA, secure sharing, and more. It not only saves your time but keeps you from a lot of hassle and insecurity of losing your data.
Pros:
You don't need to purchase an additional VPN
It can sync across Windows, macOS, Android, and iOS devices, so all sorted with one plan
Very strict in dark web threats thus saving all your crucial data
It captures the shopping recipients for online purchases.
You get a 30 days money-back guarantee.
Cons:
The free version has the 50-passwords limit.
The free plan can only be used on one device
The premium version is expensive, mainly if you have a separate VPN subscription.
Not fully dedicated to handling the non-standard logins
Internet Explorer got limited support.
In a Nutshell:
There is no harm to try Dashalane, as it has so much to offer you. Even the free version works very smoothly for one device. Due to its highly advanced features, market rep, and consistent performance it is the top password-manager of 2020. From the interface to the zero-knowledge protocol, everything is in the right place. Also, password-changer makes it even more appealing. So, it is a must-to-try product as per my recommendation.
LastPass is another password-manager that I can rely upon blindfolded. It not only caters to the premium users, but it takes care of free users too. You get one of the best free plans with LastPass; you get nothing less than that of a premium user; Isn't it exciting? You can save as many as (unlimited) passwords with the free version. And, it can be used on multiple devices without paying a buck. So, LastPass is that dreamy knight with shining armor and saves your password to save you from threats.
Features:
The features-list of Lastpass disappoints you at no point, it has features like:
Security check: It keeps the track of old, weak or compromised password and triggers you to change them for better security
One-to-One sharing: You are allowed to share your encrypted password and other information with one person at a time, this ensures that no mishappening takes place.
MFA (Multi-Factor Authentication): This is more advanced than the TFA. You can sync with all the third-party MFAs such as Google Authenticator and Microsoft Authenticator and use the MFA to add a few extra layers of security to your information.
Digital Wallet: It stores all the information you enter on the web, such as credit card information, and fills it automatically whenever you need to make a purchase, this way it protects you from keyloggers.
Secure Notes: To keep track of your data, it stores the very crucial and confidential data in the cloud.
Highlights:
I have blabbered so much about the free version, but FYI there is a Premium plan available to the users. Even, it offers four business-plans. The premium users do get a few extra benefits such as priority customer support, sharing between multiple accounts, and 1 GB of secure data storage. The paid plan has more complex and advanced MFA features such as YubiKey, Sesame, and fingerprint authentication.
Pros:
It offers highly advanced MFA options.
1 GB of cloud storage
It offers the application password managers
No ads are included
Premium users get readily active technical support
Cons:
The free plan could be more effective with exclusive features
Doenly allows shared folders
LastPass is very secure
The cost of software has increased lately
In a Nutshell:
The free users can celebrate the maximum benefits with this impeccable password keeper. Moreover, you can save an unlimited number of passwords. It needs a try and you will surely love this. With "Security Challenge", you can set stronger passwords and the MFA ensures that everything remains protected. These powerful features for free seem like a grab-deal. Even the premium accounts offer complete value for money.
1Password is the most cost-competitive content of our list of best password manager apps. I would say it has unmatched family plans. Family subscription enables you to share the benefits with 5 members at a time. It is so affordable that beginners love it with all their hearts. The counterparts of this app offer limited sharing of the subscription, but this particular software is way ahead of them and offers 5-member-use in one plan. The family member who is purchasing it, gets the hold on the Private vault, whereas the Shared vault can be used by all members. So, if you want something to protect your financial login, e-commerce passwords, Streaming passwords, home security-system code, or Wi-Fi password, nothing can replace 1Password.
1Password includes the Limit Sharing function which allows you to secure the login information from other participants; mainly useful for parents who want to keep the certain login information away from the reach of their kids.
Features:
There is a very impressive feature-range you can witness in the password manager. There are:
Built-In 2FA: It provides OTP on your mobile device to log-in to the password. It is the best trick to prevent unauthorized access.
Local Data Storage: You can easily sync the Android or iOS with the computer using the local Wireless Network with the WLAN server
Travel Mode: this is a very interesting feature, it deletes the confidential information when you are traveling and restores it when you are back to your place.
Highlights:
1Password is very useful to sync passwords and personal data on all your devices in a very secure manner. With a sleek interface and an intuitive layout, it is ruling many hearts, especially those who need a protective measure for their family's passwords. Additionally, It includes the "Watchtower" feature that alerts the users whenever the credentials are breached.
Pros:
Supports apps for Windows, macOS, Android, and iOS.
While adding the new devices, effective authentication is performed in a simple manner
Works great for most browsers
It offers an "All-platform" extension to Chrome users hence the best password manager for Chrome.
Cons:
It doesn't work well with Internet Explorer.
Import options are not very large in number
In a Nutshell:
You get the best family plan if you are a family of five people who need an impressive password manager. You can share data with other users and across other devices with just a few clicks. The Watchtower features notify you about the breach at the early stage so that you can make prompt corrective measures and secure your data. The 2FA makes it even more powerful in the terms of security. Along with these lines, I would suggest you try the 30 days free version with your family and see how it works for you.
Keeper is one of the classiest and scalable password managers on our list. It offers a range of password solutions for enterprise, business, family, and personal use, loaded with extra security and protection features. This password manager is capable of creating highly secure passwords and allows the office managers to gadget password policies.
Keeper Password Manager delivers an exceptional experience over a ton of platforms and browsers. It offers features like two-factor authentication, good sharing capabilities, and full password histories. A simple sign up process allows you to use this free version of this application.
I usually like the secure audit feature of this application, it strengthens the password and lets me create a new one without any efforts. The key thing about Keeper is that it uses the two-factor authentication which provides more protection to the store file and information.
Keeper is more flexible than other password managers vis-à-vis data you want to store. Custom fields let you keep passport info, driver's license numbers, and other significant records in the app.
Features:
KeeperChat: It has personal, encrypted application with message withdrawal along with private media gallery
Two-factor authentication. Keeper DNA, a proprietary biometric authentication feature of this app allows you to log in with a face or fingerprint on the smartphone device.
AES 256-bit encryption: Just as any other password manager Keeper uses the AES 256-bit encryption. This ensures the safety of your data on the Keeper's servers.
10 GB of storage: Keeper gives 10 GB storage to share file and store data, upgrade option is also available up to 50 GB
Breach Watch. It keeps your data safe data and login information from the dark web hackers.
Highlights
Keepers security audit, KeeperChat, and Breach Watch make it an advantageous tool in the password security niche. Moreover, Keeper gives the 10 GB of cloud storage on the family's plan which makes it worthy to use.
Pros:
Compatible with almost every popular platform and browser.
Two-factor authentication
Protected password sharing and inheritance.
10 GB of file storage and messaging app.
Remember a full history of passwords and files.
Cons:
Limited web form filling
Manual updates of password
In Nutshell:
Keeper is compatible with all types of devices including desktops, laptops, and smartphones, and also on web browsers. It brings together privacy, security, and access control in one place; making it easy for the manager to keep the complex data of the company.
Bitwarden is one of the cheapest password managers on our list. It is an open-source program which provides all the basic features for free. However, the business model is also available but it's lower than the usual price. In addition to a premium plan, Bitwarden offers family plans and multiple enterprise plans for businesses. Also, it offers an online password vault, this feature helps to access all of your passwords from any browser.
Getting started with Bitwarden is quite easy, just need to create a free account. You can manually create the list of items including the login details of passwords, credit card, identity card, and secure note.
Features:
Advanced Two-Factor Authentication: It allows the finest security by offering support to all Two-Factor authentication. You can organize Bitwarden to require an old-style YubiKey, which generates one-time passwords at a single touch. Moreover, it can use any U2F security key like Security Key by Yubico or the Google Titan Security Key.
Online password vault: This handy feature makes it possible to access all your passwords from any browser. You can log in to Bitwarden vault and use the password from any device.
1 GB encrypted storage: It offers the 1 GB encrypted storage to share data and files
Highlights
Bitwarden is a free and open-source password manager that can go one-on-one with any other subscription-based opponents. It is powerful, looks good, and is intuitive to use. Moreover, supported with desktops and mobile applications and have features like web vault, Command-line interface CLI, browser add-ons, and Two-factor authentication (2FA).
Pros:
Compatible with popular platforms and browsers.
Two-factor authentication using Yubikey or FIDO.
Creates TOTP codes for 2FA-supporting websites.
Evaluates passwords and security.
It is considered as the most secure password manager
Cons:
Extension failed to work smoothly in Microsoft Edge
Limited support for the iOS platform
The extra cost for complete secure sharing
In a Nutshell:
Bitwarden supports advanced two-factor authentication and can serve as an authenticator itself. This password manager costs slightly extra as compared to the free edition, but features like Secure Password Generator, Secure Password Sharing, Reports & Analysis, Form Filling, 2FA, and TOTP Support, Password Import/Export, AES-256, PBKDF2 Encryption on your device and 1GB encrypted file storage makes it worthy to use.
True Key is one of the strongest applications of our list. It turns the complex password management into simple to use the app. It is compatible with the Mac and PC desktops or laptops, as well as Android and iPhone devices, and allows you to secure the login data of any website. Using this application is quite feasible as compared to other available password managers. This application from Intel is highly popular in huge organizations as it offers the best multi-factor authentication functionality features. Besides, facial recognition and biometric access make it more effective and ensure the guarantee of your data security.
Features:
Multiple Sign-Ins: True Key offers the best multi-factor authentication (MFA) feature which makes your account even more secure.
Password Generator: Password generator is also one of the key features of this application. This allows you to customize password length up to 30 characters.
Facial Recognition: This feature easily recognized the identity of users by clicking the picture. This feature works incredibly as you don't need to put any extra effort into it. This will definitely help to secure your data from hackers.
Highlights
True Key is an adequate password manager that allows you to save passwords, credit cards, and notes in one single app. True Key has a free version for users to try out to get a feel for it.
Pros:
Comprehensive support for multi-factor authentication.
Syncs passwords on Windows, macOS, iOS, Android platforms
Easily and securely operates even without a master password.
Cons:
Don't have the password sharing feature
Lack of support for Internet Explorer on Windows or Safari on Mac.
In Nutshell:
True Key password manager covers basic tasks, with a focus on multi-factor authentication. However, it lacks some of the advanced and key features like secure sharing, password inheritance, and other advanced password management features.
Sticky Password offers a free version with all the measures and features required to maintain the security of your passwords. From automatic form-filling to avoid the keyloggers, digital wallet to store password and notes, to Multi-factor authentication to ensure the overall security, the free version is ladened with everything you need. The major highlight of this password manager is the "Portable Password Manager", which enables you to access the passwords stored on your computer whenever you need it.
Moreover, the free plan offers you unlimited storage for passwords, and also it allows you to use it on as many devices you need. So, the free plan is a fully-loaded pack which is obviously better than many other competitor's free plans.
Features:
The features of password managers are very exceptionally great. The premium account holders got:
Secure the cloud backup: You can store your system's data in the cloud, as a backup. This helps you restore the data in the sudden deletion or misplacing of data.
Local Storage: if you are not a cloud fan, you get aa good amount of local data storage, to sync the password using a local wireless network
Secure sharing: You can easily customize the permissions and securely share your password with multiple numbers of users
Best technical support: the support services are accessible all around the clock to offer instant help.
Highlights:
Sticky Password is an amazing product that has a wide range of features. It fills up forms for you and keeps your confidential information secure. Apart from this, the presence of a portable password manager and secure home network gives an assurance of safety. The free version does a great job unless you are looking for highly advanced features.
Pros:
It allows you to perform password-sync on multiple devices
It offers very safe local sync with the Wi-Fi connection
It manages application passwords
It includes 2FA
Cons:
The master password can not be recovered
Absence of digital inheritance
Supports very limited web-apps
In a Nutshell:
Sticky Password is a decent product with plenty of security features. Even, the free version of this app is highly recommended if you need basic software to manage all your passwords under one roof. But it certainly lacks advanced features but this fact hardly affects the users who need a basic tool.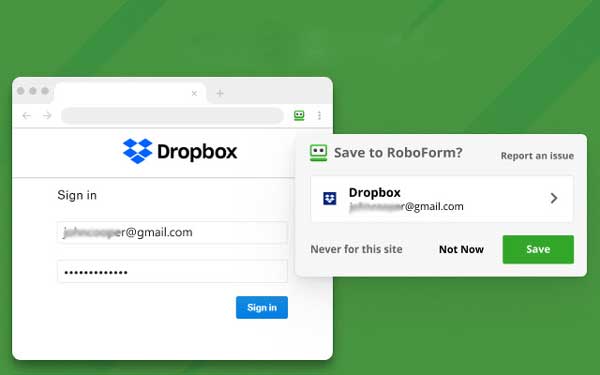 Roboform first started as a very plain platform, but by the time it has been improvised to such extent that it can outrank hundreds of other password managers claiming to be perfect. I have started loving it after witnessing all the advancements made from the end of the brand. The best thing this product offers is ultimate security and a bunch of unique features.
RoboForm consists of a "bookmark" feature using which you can sync and save the browser's bookmarks on your desktop on your mobile devices.
The interface of Roboform is not very sleek, yet absolutely navigable when understood completely. But the affordability of this product, overshadows these tiny flaws and makes it a value-for-money product.
Features:
256-bit AES encryption: This way it ensures the end-to-end encryption of your data and gives you an assurance that you have chosen the right product.
Two-factor authentication (2FA): To add an extra wall of protection, it offers TFA or support to all other TFA apps.
Password generator (up to 512 characters): people nowadays preferring longer passwords and thus it offers the limit of 512 characters for your master password.
Password-analysis: The Security Center of this app checks the strength of your better and suggests ways to improvise your password.
Highlights:
The automatic form-filling capabilities of this software are outstanding. You get several customization options unlike other counterparts. It even allows you to create numerous "Identities" for web-forms. Furthermore, you can divide your data into eight different categories such as passports and card information and the data can also be shared with multiple users.
Moreover, Roboform consistently suggests the improvements you can make on your password to make it stronger. Even the backend team of this particular app is highly experienced with all the latest hacking ways and thus offering the security features accordingly.
Pros:
It allows you to sync across multiple platforms
It gives you suggestions to make the password stronger
It offers digital inheritance and secure sharing.
Impeccable web form filling
App password management
Cons:
Import features are limited
Interface is complicated
The default password generator is not highly impressive
TFA is quite limited.
In a Nutshell:
RoboForm is an effective platform to manage your password and includes the optima; form-filling features. Apart from this pricing is quite flexible hence perfect for both beginners and professionals. There are plenty of customization options available with the "zxcvbn" protocol. It works very smoothly with all operating systems and devices. Above all, the 30-days money-back guarantee makes it worth trying.
Enpass is one of its kind password managers because it offers the one-time purchase facility which means you just need to pay once and use the product for a lifetime. Moreover, the price is not so high, so you get a golden deal here.
If you are the one fearing commitment, you can go for the yearly subscription option. Furthermore, there is a free version available that allows you to keep 25 passwords at a time.
Unlike many other password managers, Enpass only provides the local data storage and no data-sync across the cloud as there is no arrangement of dedicated servers. I personally find it a bit backward because other fellows do offer cloud syncs features. But if you are the one who is too wary of cyber threats and believes in the cybersecurity defense system, this one's for you. However, if you have a cloud account, you can sync your encrypted data using the "Cloud Sync" feature.
Features:
The features of Enpass are:
Wearable support; Using this you can easily access the SmartWatch data.
Portable Feature: You can install using the USB storage device on different devices
Biometric support: You can unlock the Enpass using the fingerprint, eye, or face.
TFA: Time-Based One-time password engine makes it a very secure platform.
Highlights:
At the price it is coming, Enpass justifies its role. It offers limited features yet important features to secure passcodes. It helps you create a strong password, and offers autofill features and audits.
Pros:
It offers the automatic password capture, near-automatic replay.
It offers support to various platforms.
Includes Two-Factor authentication.
The secure sharing of data
It includes "Password audit" feature
Provides the Cloud-based syncing.
It works as an offline password manager.
Cons:
Best Free password manager's version is not available for mobile use
Does Not support Internet Explorer
It doesn't have web-form filling
There is no account inheritance available.
In a nutshell:
Enpass is a perfect software to avoid the recurring subscription pop-ups. Once paid, you get a lifetime opportunity to use it whenever you want. Though the features are minimal, it is perfect for beginners. There is no way to recover our forgotten master key and hence you need to rebuild the entire vault from the start.
NordPass is meant for people who are not very sound technically. It has a very simple and smooth interface so that beginners can feel ease while operating it.
I kinda like the ease of importing passwords, creating the new logins with the NP browser extension, and generating new passwords. It also consists of excellent security features such as Two-Factor authentication that works with fingerprints, email, or USB drive that has the Master Key.
When it comes to security, NordPass works on XChaCha20 encryption- that is also used by Google to secure their data. Also, it follows the zero-knowledge protocols, and thus your data is inaccessible even for the NordPass technical team.
Their free version can only be used on a single device, but you can save unlimited passwords. On upgrading to the premium version, you get unlimited password sharing along with the support for up to 6 devices.
Highlights:
NordPass Premium has some additional features, but there is still some room for improvement. Adding the dark web monitoring, secure online shopping, VPN and personal form-filling options can make it even better. But the zero-knowledge protocol and a very user-friendly interface can appeal to many users. So, for decent password storage, Nordpass is an apt tool.
Pros:
Very intuitive interface
Secure password sharing
Offers Two-factor authentication
Performs audits
Cons:
No form-filling tools for personal data
No password inheritance
No TFA-Key support
No Safari extension is available.
In a Nutshell:
NordPass is a very effective tool for beginners and people who are not tech-savvy in nature. But it certainly lacks various important features. You may get better options with advanced features at the same price, but if you want to give it a shot, you must go for it as it comes with the 30-days money-back guarantee.
Related Post