Why and How to Set Up USDT Payment Gateway?
Updated On October 19, 2023 | by James Wilson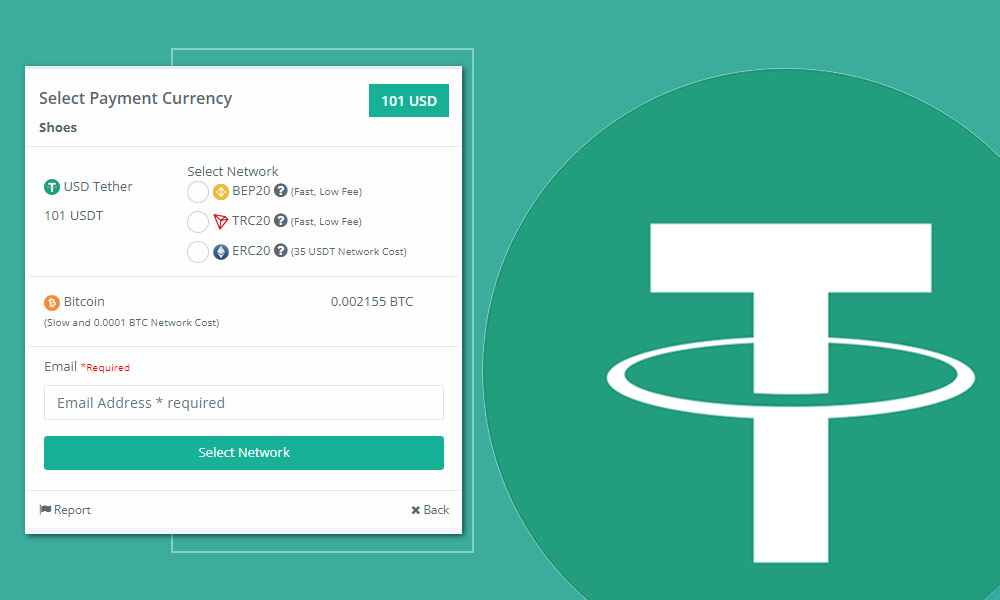 USDT is one of the most popular stablecoins on the market. This currency is commonly used to buy other currencies and is easy, fast, and efficient. Since USD is backing up the USDT payment gateway, its value should be more stable than other currencies.
USDT payment gateway eases transactions for companies no matter their size. The worldwide transaction allows businesses to buy and sell assets anytime from anywhere, which promotes advanced crypto trading.
Are USDs and USDTs the Same?
You might be wondering what USDT is and how it differs from the USD we all know. Well, for the fact that the value of currency remains identical.
Well, there are some things that you need to know about both of them.
Currency Exchange
Since USD is the currency accepted all over the world and is the world's leading currency, you can exchange the currency in the respective country you are residing in.

For USDT, unfortunately, this feature is lacking, and we cannot swap it in exchange for the currency of our choice.
Stability
There is no doubt how safe it is to invest in the US Dollar compared with other currencies. But that is not the case with the USDT. Being from a crypto family, the USDT is highly unstable and faces a lot of changes in price throughout its lifetime.

However, if compared to other crypto, it is still safer and more stable, but there is no other currency that can beat USD. These are the stats that we could collect till now regarding the fluctuations in its prices.
1-to-1 Proportion
The USDT is based on the Ethereum and cryptocurrency and is secured with the real American Dollar in one-to-one proportion. The need for this currency was felt by the developers from Tether Inc. It was intended to be a stable currency for the crypto world, just like USD is for the real world.

The regular audits of the claims done by the coin are published on the company's official website.
These were the points that inform us of the differences and links between the two of them.
Why You Should Accept USDT Payments?
There are several benefits of accepting payments through USDT. They include the following:
Transaction Fees

Transaction fees on exchanges are generally higher but with USDT, there is no commission charged when the transaction is made from one Tether wallet to another.
Transaction Time

Deposits and withdrawals through USD may take up to 1 to 4 business days if done in a traditional banking system. However, the process is quite faster with USDT, and the transaction is complete within a few minutes.
International Payments

In some nations, the financial system is in the developing stage, which creates a hurdle in making international payments. With the help of the USDT payment gateway, businesses found a reason to accept cryptocurrency payments from all around the world with low fees.
Access

If you don't have convenient access to the banking facilities, you can simply use USDT Crypto to make payments.
These were some basic plus points that you should know about crypto USDT.
How to Start With USDT?
It is super easy to get started with USDT payment systems. But still, you need to keep some things in mind like the terms and conditions of the coins and functioning rules so that there are zero chances of any potential loss. 
Giving this discussion a green light, the following is a step-by-step guide that you should follow:
Select a reliable stablecoin exchange from the most popular options, such as Binance, Kraken, or Bitfinex. 
Create an account with your chosen platform, after which identity verification is necessary. 
Note: This step-by-step process will get you on track for depositing funds into your wallet – paving the way to trading activity and payments via USDT.
Choose the method of USDT payment integration for your business. There are three options:
E-Commerce Plugin Integration

You can simply select an e-commerce plugin integration that suits your website and install it > enable it > set up API credentials.
Payment by Link or QR Code

To easily accept payments in USDT, you can create an invoice and share it with your customers. They will be able to make payments by directing to the link or scanning the QR code for your address to add to your website or app. There is also a static wallet that you can share with your clients once and receive payments on your wallets.

Note: Services like Blockchain.info and BitPay simplify it by allowing users to conveniently scan the generated code before initiating USDT payment systems. This allows customers to quickly and securely transfer funds directly into your exchange account.
API for USDT Payments Connection

This is an amazing customizable solution for merchants. However, to implement it, you may need some technical knowledge. You can ask your programmer to integrate it.
Now, you can simply accept USDT with any of the mentioned payment gateway. 
Accepting crypto payments has many advantages, and one excellent option is stablecoins such as USDT. You can easily withdraw and deposit funds with it anytime you want. However, the world of Crypto is relatively unpredictable, but when it comes to USDT, it is one of the safest ways to store cryptocurrency.
Final Words
Cryptocurrency is a great choice to attract new customers and stand out from competitors by adding a new USDT payment method. This guarantees to protect cryptocurrency from theft and volatility. Transfers are easy to complete at lower fees with faster transaction times – perfect for businesses looking to accept cryptocurrency payments. So what are you waiting for, hurry up and do not miss out on the opportunity.
---
Related Post