Neon Signs for Home Decor: A Guide to Adding a Pop of Color to Your Space
Updated On May 27, 2023 | by Bhavya Singh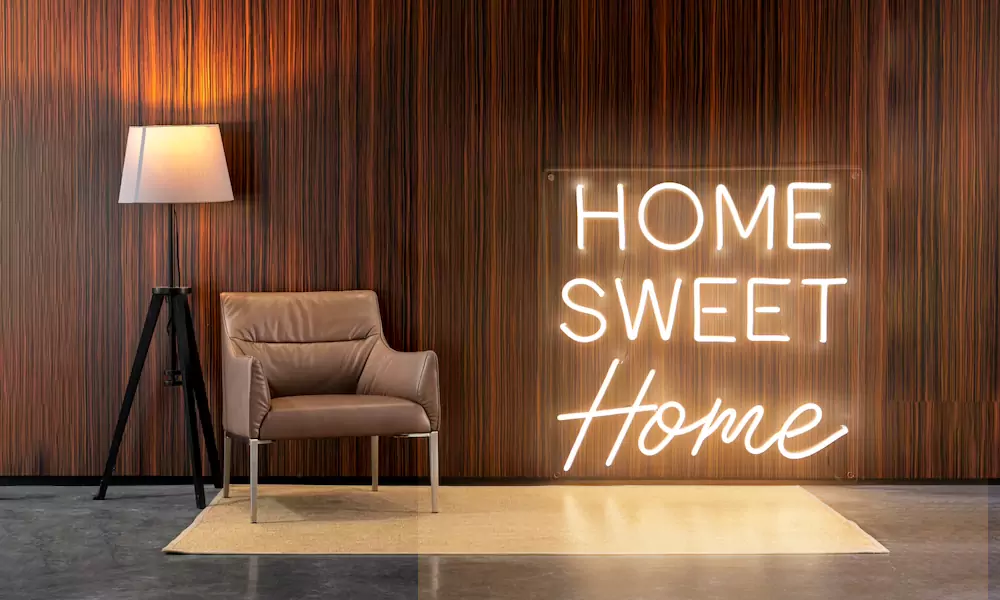 We believe in the possibility of getting bored with the old and unaesthetic decor of your belonging. While a few of you're hunting for resources and looking forward to adding eye-catching elements. Consider custom-made neon signs in vibrant colors to enhance your everyday view.
What are Custom Neon Signs?
Well! Custom neon signs are handcrafted and caved signs.
Utilization of these has a wide scope. Likewise, they can be used by individuals, for decoration, to reflect personality, and so on. This discussion goes on and on.
Typically, these are made of PVC backboard and LED neon tubes. They glow when an electrical current passes through them and the atoms activate. Eventually, neon signs start illuminating.
While discussing its aesthetically appealing factors, they are available in variant colors, shapes, and sizes. On top of that, you can grab a personalized one for yourself. 
Also Read:- The Best Ways to Enjoy Your Outdoor Living Space Year-Round.
Why Use Custom Neon Signs for Home Decor?
Custom neon signs are a stylish yet versatile type of signage. They are worth spending on as they add a fun and personalized touch to your wall or room. Even, best suited to spread a cozy atmosphere in a bedroom while adding a touch of glam. It, even, adds flair to your home bar or entertainment room.
Despite, those dime-a-dozen benefits, these LED signage facilitates a cozy atmosphere in bedrooms, add a touch of glam to the living room, a fun and personalized touch to rooms, and even adds flair to home bars or theater or entertainment rooms.
For introverts out there, who feel shy communicating with others, these neon signs can be a great conversation starter. Hence, make your space feel more welcoming and inviting.
Regardless of the above-discussed goodnesses. Here are a few factors that stand in support of why a custom neon sign might be the perfect addition to your home decor:
Customization: One of the crucial reasons for installing neon signs is its flexibility to get personalized the way one desire. You decide the designs and messages. Those designs and messages could be your favorite quote, family name, or maybe a unique symbol. They can be carved to the exact specifications you demand.
Versatility: As stated earlier, this signage can be installed in a variety of settings, ranging from a home bar to a bedroom.

They bring the most sophisticated lighting function like the capability to flash and dim. Its variety of shapes, colors, sizes, and design can add a pop of color as well as easily fits any aesthetic.
Durability: While discussing its durability, there is no doubt it will last you for a long haul. Unlike traditional light bulbs, these contemporary neon signage require minimal maintenance.
Easy to Install: Installation of neon signs is not rocket science. Furthermore, we can assure you it's a happiness to deal with. Simply mount these signs on the preferred wall and attach them to a power source to plug it in. Likewise, noways, a few of them comes with a remote control for their functionality.
Affordable: Believe it or not, these won't make your pocket feel heavy because they are surprisingly affordable. They can add a high-end touch to your luxurious yet eye-appealing decor without breaking the bank.
Different Types of Custom Neon Signs for Home Decor
The list of its types is stretched enough. Some popular types of custom neon signs are:
Inspirational quotes
Light alphabet or words
Personalized names or initials
Custom designs or logos
Pop culture references or lyrics
Neon shapes and symbols
Neon art
Led Dots Neon Font Letter
How to Choose the Perfect Custom Neon Sign for Your Space
Choosing a custom neon sign for your home decor should be done by optimizing the overall aesthetic of your belonging and the specification one need to portray through it. So figure out whether you need something bright and bold or something more subtle and understated. That's all up to you, so take your time and evaluate your needs and find the perfect sign for your space.
DIY vs. Professional Custom Neon Signs
With the emerging trends of DIYs, there are options that exist to create those custom neon signs. Although, DIY is something to expand one's capabilities. But, at the same time, it's important to consider the potential safety risks. Creating neon signs requires technical knowledge.
You must have heard that prevention is better than cure. So if you are unaware of those technicalities, just hire a professional to create one for you and ensure safety and expect high-quality results.
Where to Buy Custom Neon Signs for Home Decor
You can own these signs online from different e-commerce portals like Amazon, Flipkart, Meesho, Myntra, and so on. But bear this in mind, and make sure to buy from a reputable seller to prevent fraud. Always, read customer reviews before placing an order. Moreover, you can buy them from specialty shops that supply custom neon signs for home decor.
Conclusion: Elevate Your Home Decor with Custom Neon Signs
Taking everything into consideration, custom neon signs are a fun and unique way to add value Vanities for Your Home, a pop of color, and personality to your home aesthetics. They are worthwhile to give it a shot. No matter what, there is a custom neon sign out there for you. Whether you desire a cozy and inviting vibe or a bold and statement-making piece.
They bring endless customization options and durability. Thus, a great investment for anyone. So, why not give it a try and add brightness and colors to your homes?
---
Related Post