10 Creative Ideas for Decorating Restaurant Chairs
Updated On June 8, 2023 | by Samara Davis
Introduction
Going out to eat has become a common pastime among the youth of today's generation. With this growing sense of dining in, it is becoming essential for restaurant proprietors to pay close attention to every aspect of the business. Experience is the most important thing that values, food can be once ignored by the customer, but if the ambiance or aesthetic does not match their expectations, then we are sorry but you are going in the wrong direction.
From walls to chairs, each and everything matters and contributes to the overall aesthetic of the venue. Well, talking about chairs, In this article, we are going to showcase to you 10 original and best suggestions to decorate your restaurant chairs which will truly attract a number of foodies for you.
Embrace the Power of Colour 
Playing around with different colors is an easy yet effective method to give the seats in your eatery a fresh look. Experiment with contrasting colors after selecting a color palette that works well with the style of your home's interior design. You have the option of going with tones that are all the same color, or you may choose to be daring and choose colors that stand out. You might also think about using patterned materials, which can offer a dash of refinement as well as some visual appeal.
Mix and Match Styles 
By combining and contrasting a variety of chair types, you may produce an engaging ambiance. Mix modern and old furniture designs, or combine seats made of different materials and featuring a variety of finishes.
This diverse approach not only gives the dining space more dimension but also fosters dialogue between the guests. Do not be afraid to go through the enormous collection of seats that can be found on the website restaurantfurniture.net in order to locate the ideal combination of seating options for your business.
Customized Upholstery 
Personalize your chairs with customized upholstery to make a statement. Choose from a wide range of fabrics, prints, and patterns to create a unique look that represents your brand. You can even include your logo or other branding elements for added visual impact. Customized upholstery also provides an opportunity to refresh their appearance periodically, keeping your decor fresh and exciting.
Artistic Chair Backs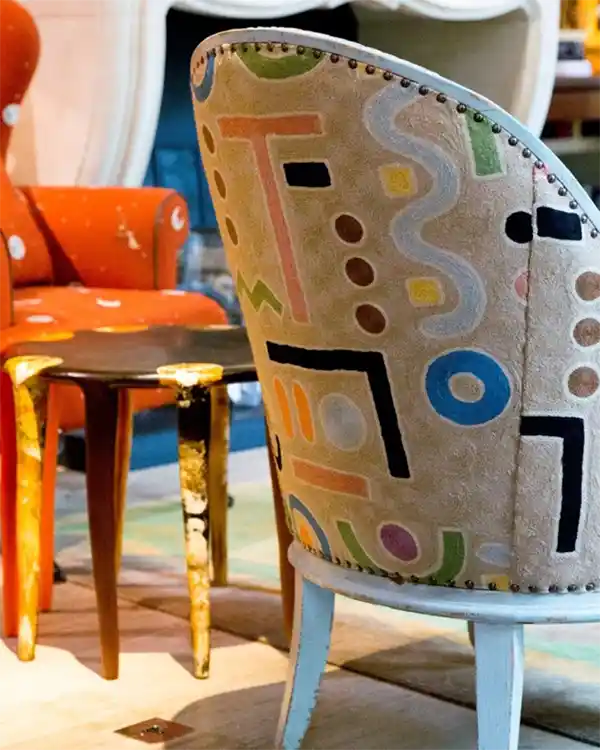 Create works of art out of them that are used in your lunchroom by decorating the backs with various artistic patterns. Take into consideration ornate metalwork, wooden designs that have been carved, or commissioned artworks that highlight the concept of your place. These aesthetic aspects not only provide visual appeal but also act as topics of conversation for your visitors to engage in when they are at your home.
Chair Slipcovers 
Add some flair to the seats in your cafe with slipcovers that are both fashionable and functional. These fabric coverings are readily detachable, making it possible to change them to fit a variety of occasions, themes, or seasons.
Chair slipcovers are an easy and affordable method to maintain a modern and fresh appearance in your home design. They come in a broad variety of colours, patterns, and materials from which to pick.
Personalized Chair Plaques 
Add an extra touch of elegance to your dining room by attaching personalized plaques to your seats. These plaques can feature the name of your establishment, a favorite quote, or a design that reflects your brand. This customization adds a sense of exclusivity and class to your dining experience.
Themed Restaurant Chairs
Embrace the concept of your restaurant by infusing it into the design you use there. It doesn't matter if you run a seafood eatery with a nautical motif, a cozy French bistro, or an industrial-chic café; your choice should capture the spirit of your establishment.
It is important to create a unified and immersive eating atmosphere, so while thinking about the materials, colors, and design aspects to use, keep your theme in mind.
Accent Chairs 
Create visual interest and break the monotony of your dining space by introducing accent chairs. These statement pieces can be bold in color, feature unique designs, or showcase interesting materials. Strategically place them throughout your place to enhance the overall ambiance and provide guests with an unforgettable dining experience.
Embellished Chair Legs 
Don't forget about the chair legs! This often-overlooked detail can make a significant difference in your restaurant's appearance. Experiment with metallic finishes, carved details, or even custom-painted designs that reflect your establishment's character. These subtle enhancements can elevate your seats from ordinary to extraordinary.
Comfort-Driven Design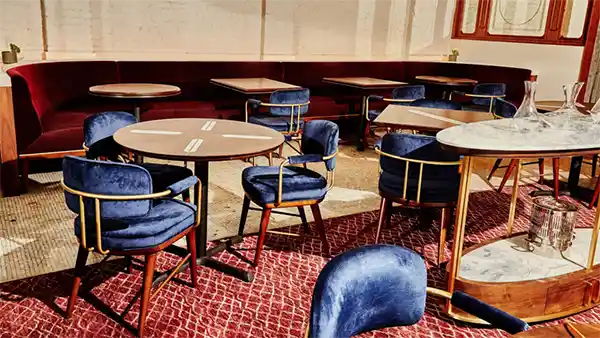 Seating at your diner should be comfortable without losing style. Comfortable, welcoming seating is just as important as delicious food and beautiful surroundings when it comes to creating a memorable dining experience.
Make sure your guests can kick back and relax throughout their meal by selecting chairs with ergonomic designs, plush cushions, or adjustable features. Remember that if you provide them with a place to sit down, they'll remain longer, which boosts your chances of getting repeat business and excellent word of mouth.
Conclusion
Incorporating these creative ideas into your restaurant chair design can transform your establishment into a unique and inviting space. From playing with colors to prioritizing comfort, each suggestion offers a different approach to enhancing the look and feel of your dining area.
Explore the extensive range of options available at restaurantfurniture.net to find the perfect products that cater to your specific requirements and design preferences. Give your guests an unforgettable dining experience by investing in stylish, comfortable, and distinctive chairs.
---