How to Compress PDF to 100KB
Updated On November 17, 2022 | by Ankit
The PDF format has full-text search capabilities, and can also locate text, bookmarks, and data in a document. Therefore, the format is widely used in the business, academic, and office fields. Also, for those who frequently use email and messaging applications to share or upload PDF files to the web, file size is an important consideration.
To make your PDF files more manageable and save space on your computer, you can use a PDF compressor to optimize PDF files. If you want to easily compress your files to the specified size of 100kb, then choosing a reliable PDF compressor is a prerequisite. Below we will discuss in detail how to reduce your PDF files to smaller sizes online or offline.
How to Reduce PDF Size to 100kb Online
PDFgear uses MRC technology to greatly optimize PDF files while maintaining maximum fidelity. With no download and no registration required, you can easily complete the compression task with this free online tool. Unlike other online tools, PDFgear does not limit the size and number of your compressed files and likewise does not have any watermarks added to your compressed files.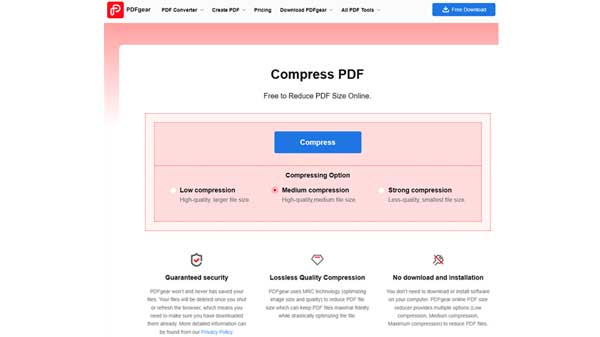 Step 1. Upload PDF files to PDFgear
First, enter PDFgear, find Compress PDF in the top menu bar, and then jump to a new window.
You can click the blue Select File button in the middle of the page to add PDF files, or you can drag and drop to perform this.
Step 2. Setup Compressing Option
After your images are successfully uploaded, a new window will pop up for you to select the compression option. The higher the compression level, the smaller the file size. Three compression options are provided here, and medium compression is recommended.
After selecting the compression option, click the Compress button to launch the tool and PDFgear will automatically optimize the file size.
Step 3. Click to Save the PDF File
The compression task will be completed in a few seconds, and then you can click the Download button to get the new compressed PDF file.
If the downloaded file is not yet the size you want, you can repeat the process to further compress the PDF to less than 100kb.
How to Compress PDF to 100kb Offline
For those who do not feel comfortable uploading their important PDF files online, you can use PDFgear desktop software to compress PDF to 100KB offline. PDFgear effectively eliminates useless parts of the file and compresses the original PDF file to a usable size of 100kb without affecting the quality of the file. Before starting the compression, you need to free download PDFgear to your Windows or Mac device.
Step 1. Upload the PDF
Click the PDFgear icon to launch the program and select Compress PDF from the popular tools. Then click the "Add file" button to upload PDF files, you can press Ctrl to select multiple PDF files to be uploaded to the compressor at once.
Step 2. Select Compress Level
Select from the 3 given compression levels in the pop-up window: low, medium, and high. Low compression reduces the file size by a small amount but maintains the maximum file quality. High compression gives you the smallest file size, but with some loss of file quality.
To facilitate the latter to quickly find a new compressed file, you can preset the file output path in advance.
Step 3. Compress PDF Now
After everything is set up, click the red Compress button. It only takes a few seconds and the shrunk PDF file will appear in the pop-up File Explorer.
Compress PDF to 100KB: FAQs
Why should I compress PDF files?
Compressing PDFs under 100 KB has several advantages: Compressed PDF files can be quickly and easily emailed or shared on social applications and social media. In addition, compressed files are easier to manage, allowing you to store more files.
Which is the best PDF compressor under 100KB?
A simple search for the best PDF compressor on any browser will present you with a large number of options in the search results, but the really difficult part is when it comes to choosing from them. PDFgear is one of the best PDF compressors that offers three compression options for users to choose from. This PDF tool has good performance and compatibility and can easily compress PDF files below 100KB.
Is free to use PDFgear to compress PDF files?
For your convenience, PDFgear offers an online compressor for free. With a stable network status, you can access PDFgear anytime for free to perform PDF compression tasks for free. For Mac and Windows users, they also offer a desktop version of PDFgear. You can download PDFgear for free on their website to your PC, and choose either Annual Plan or Perpetual Plan to unlock more features according to your needs.
Will compression reduce the quality of PDF files?
PDFgear uses MRC technology to optimize the size and quality of images, which will ensure the quality of PDF files. When working with large PDF documents, this online tool scans the file and identifies similar data patterns, then replaces all duplicate items with unique identifiers. It will greatly reduce the file size while maintaining and optimizing the quality of PDF files.
Which system does PDFgear support?
You can access PDFgear Online Compressor from Linux, Windows, and Mac browsers, while the tool is also available for mobile devices such as iOS and Android systems. In addition, to meet the needs of users who want to compress PDF files offline, they provide desktop software for Windows and Mac.
How do compress PDFs for sending emails?
With PDFgear, you can compress your files to specified size with just a few clicks. After uploading your PDF files to PDFgear, it will automatically reduce the file size by keeping the compression level with your customization, making the file compression fit the email size.
The Bottom Line
No matter what your purpose is for compressing your PDF files to 100kb in size, this article can give you a hand. With no download and no email address required, using PDFgear online to compress PDF to 100kb is more flexible. Compared with the online version, PDFgear offline software has its unique advantages. It is faster, more stable, more comprehensive, and not limited by network conditions.
Also, Read About: PDFBear Online PDF Tool: Converting Excel to PDF Files in No Time
---
Related Post