iPhone Locked to Owner? Bypass iCloud Activation Lock Without Passwords!
Updated On October 20, 2023 | by Raymond L. Mora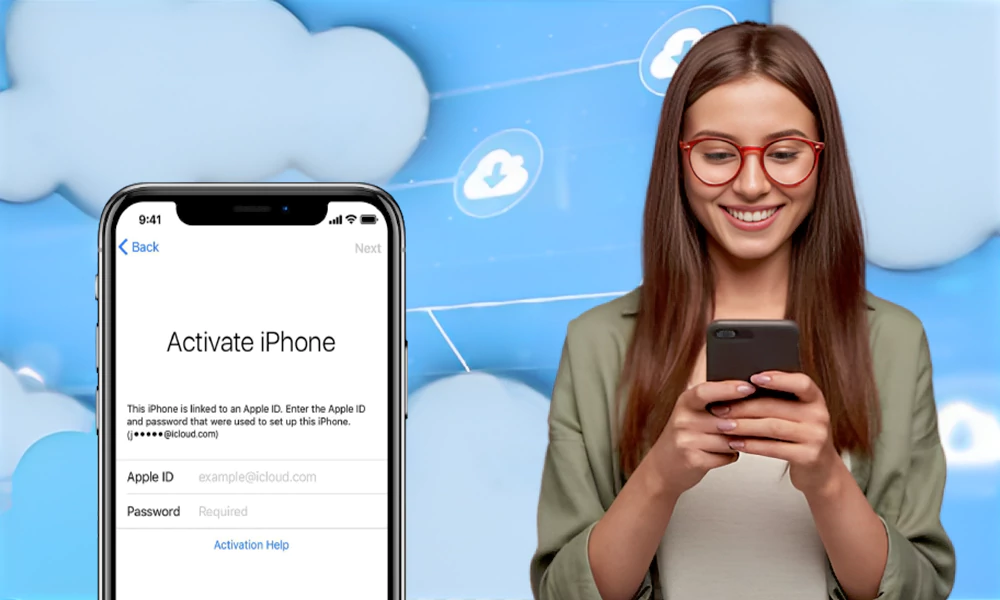 To safeguard the device data security, Apple has restricted access to it when trying to reset an iPhone from the activation process (if you have enabled the Find My function before).
However, it can be embarrassing when you forget about the passwords of the linked account, or the devices do not belong to you – you have purchased a second-hand iPhone but only found it is locked to previous owners.
So how can we bypass this obstacle to activate a device locked to owners when we don't exactly remember or know the passwords? Scroll down and keep reading.
Best Solution to Bypass iCloud Activation Lock on iPhone Locked to Owner
To bypass the iCloud activation lock, Apple asks for passwords if you process it by the official methods. Nevertheless, the reality is that sometimes we just can't know the passwords because of various reasons, like you can't contact the previous owners of the devices at all.
Therefore, you will need a password-free way to remove the protection, and this should be the service provided by third-party unlocking programs.
If you require an iCloud activation lock bypasser to remove the protection without passwords, but in a secure and efficient way, Passvers iPhone Unlocker should be the best option you should not miss. It delivers only a one-tap solution to the removal process, making it no longer a troublesome task to get rid of.
Sparkling Features of Passvers iCloud Activation Lock Bypasser
The iCloud activation bypasser delivered by Passvers iPhone Unlocker does contain multiple sparkling features, making it a reliable assistant trusted by numerous users:
Smooth and quick performance – Developed with advanced algorithms and high-speed techniques, the tool functions at a quick speed to process the service for you smoothly on both Windows and Mac. It is well-compatible with all the latest models and iOS systems, including the iPhone 15 series of iOS 17 systems.
Error-free lock removal results – Compared with other competitors, the program delivers the most stable performance to get rid of the restrictions. It enjoys the highest success rate, managing to bypass without any errors occurring.
Highly safeguard safety – The program is also developed with advanced encryption techniques to ensure the security of all devices as well as program data. It won't be illegal to keep or misuse user data before getting permission. The setup process also prevents bundled malware or malicious viruses from invading, ensuring a 100% safe environment to manipulate all functions.
Suggested Read: 6 Things to Do Before Taking Your Apple Devices for a Trade-In
How to Bypass iCloud Activation Lock on iPhone Locked to Owner
To remove the password from a locked device to the owner, simply follow the manipulation guide below and use Passvers iPhone Unlocker's bypasser feature to get rid of it only by taps:
Step 1. First, you need to jailbreak your device before processing iCloud activation lock removal. Subsequently, simply connect the jailbroken phone to the computer using a USB cable to enable Passvers iPhone Unlocker to detect it.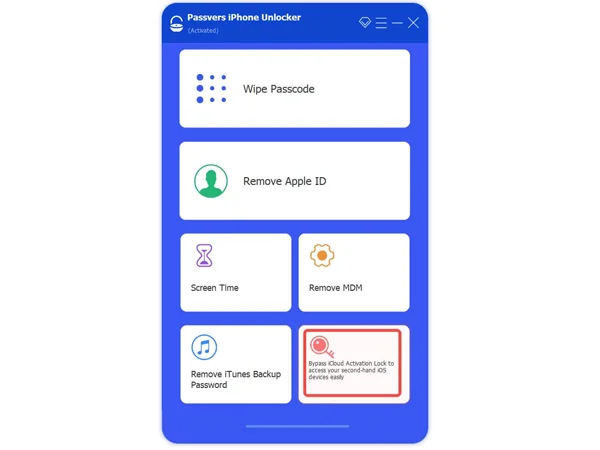 Step 2. Please select the iCloud activation lock bypasser from the startup main interface of the program. Once Passvers iPhone Unlocker detects your device, the device information will be displayed.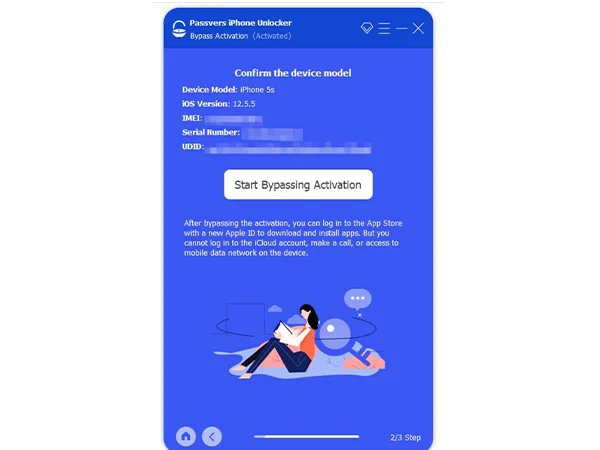 Step 3. Simply click on the Start Bypassing Activation button, and then Passvers iPhone Unlocker will initiate the removal for you.
Tip: Check for Activation Lock Before Purchasing iOS Devices from Non-Apple Merchants
Many users will get stuck in the setup process when purchasing second-hand devices from third-party merchants rather than Apple or Apple's resellers.
Apple doesn't disapprove of such actions, but it still notifies buyers to check if the devices are still linked with previous owners' iCloud accounts in advance to prevent unavailability.
It is simple to check it, as on a device protected, you will see the notification telling you the mobile is locked to the owner on its startup screen. When you can't see this notification but successfully start the devices and enter the Lock Screen or Home Screen, it means that the devices are not erased completely.
Open Find My app and if you find the function is running, then the protection is also turned on.
Conclusion
Apple forces you to enter passwords as an identity recognition if you wish to remove the iCloud activation lock, but this becomes trouble, especially when you forget passwords or just purchase a second-hand device locked to the previous owner.
Under such circumstances, Passvers iPhone Unlocker becomes a reliable helper working to get rid of it and enables a successful device setup once again. You are recommended to try this safe program if you are facing the same trouble because of the iCloud activation lock.
---
Related Post