What is Secure Cloud Storage and What are Its Benefits?
Updated On February 27, 2023 | by Sejal Mehra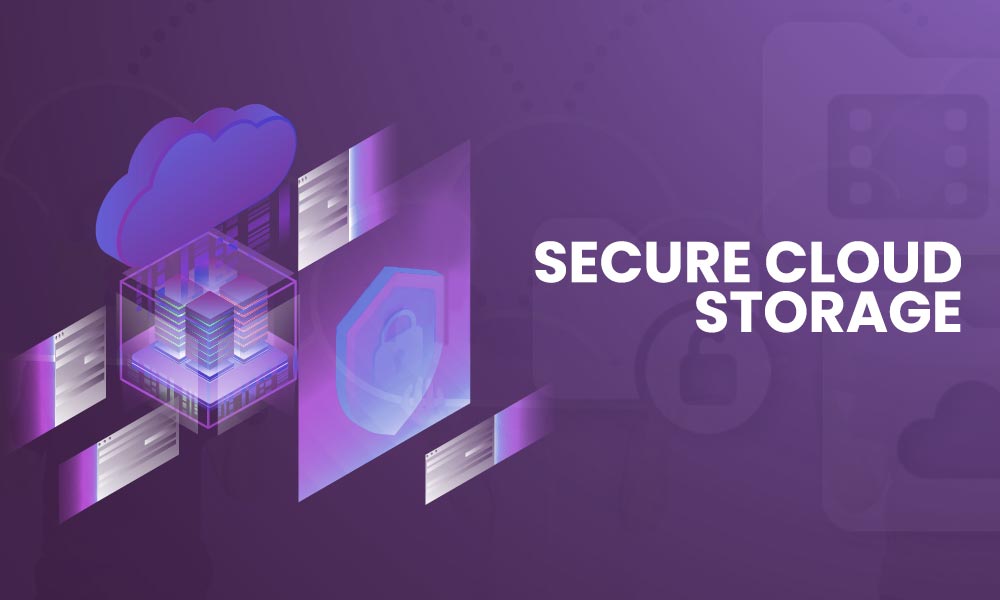 Secure Cloud storage allows any organization to save its crucial data in the cloud instead of doing the same in on-site data storage; therefore, it's also known as a cloud computing service. All those organizations using this model consider it the most convenient way because the system helps users transfer and maintain significant files on a third-party server. Additionally, employees who require this data to complete their tasks are provided instant access to data from any compatible device.
Its common uses are as follows:
Email storage
File archives
Email storage
Data backups
Primary file storage
Disaster Recovery as a Service to reply to unexpected events.
You need to understand its prominent advantages to know how you can benefit from a secure cloud storage service. I have explained every significant benefit in detail so that you can realize how crucial a role it plays in the success of any business today.
Data Encryption
The central element that comes through secure cloud storage is encrypting data on the cloud. The data will be encrypted entirely as soon as you send the file. You can explore several options, such as Multi-Factor Authentication, Single Sign-On (SSO), and many more.
This feature also ensures that the data any random person can't process you store but only those chosen by you. You won't have to worry ever if your device gets stolen as your privacy remains there and every piece of information is encrypted.
Protect Against Cyber Attackers and Malware
The model provides added layers of protection to your stored data from cyberattackers and malware. Don't underestimate this risk if you are running a small business. The fact is that more than 40% of small businesses get affected by cyber attacks today. The impact is so intense that more than 50% of those businesses drop out.
Therefore, you should never take any risk that devastates your business completely. Besides, prominent companies, including Facebook, Microsoft, and others, are too targeted by online fraud and malware.
Hence, secure cloud storage provides the utmost security to the data and thereby ensuring the safety of your data against online fraud and malware. You can keep your sensitive documents safe.
Easier to Share and Access Files
If maintaining files and sending emails to your several clients seem a tedious task to you, and you think that handling multiple operations is not your piece of cake, you might not aware of the advanced secure cloud storage model. Be it sending emails to several clients at a time, uploading files, or synchronizing different devices, you can do all the tasks simultaneously in the most efficient manner.
Additionally, secure cloud storage helps you avoid several mistakes and removes the burden from your shoulders while you are trying to access and share multiple files.
In addition to this, you will also observe that all of your data becomes centralized, and hence it eliminates the need to synchronize different devices while accessing data stored in multiple devices. You are free to access the data from anywhere through any of the devices. Besides, there is no need to connect with the server also.
This feature is a bonus for specifically those who are freelancers or permanently remote employees, frequently travel for work purposes, and require important files on an urgent basis anytime.
Real-Time Collaboration
You will be glad to know that Some specific secure cloud storage models also provide opportunities for collaboration in real time. This feature provides flexibility to some extent in a way that allows changes in files to be made by more than one person at any point in time. Some chosen people are authorized to make such changes, and hence, this feature is of immense benefit to those who are working for any project management team.
Cost Effective
Apart from safety and security, cloud storage is also economical. When you are relying completely on local on-premises storage, you bear heavy expenditure in purchase, maintenance, and many other operations. Besides, the bearing cost of manpower who is running the system is also high. On the other hand, if you switch to secure cloud storage, it reduces your overall expenditure to 87%.
Moreover, it reduces the reliability of power and manpower to operate in-house servers. The best part is that you can opt for different payment plans according to the storage sizes. According to your requirement for increased storage, you can upgrade it. Hence, following this way, you don't pay for the entire server and customize your payments based on how much storage you are utilizing.
Conclusion
It can't be denied that secure cloud storage services have gained profound importance in the past ten years, and thus secure cloud storage has become an essential service of the software industry today.
You can see that every developed tech company today has its cloud storage service. Those companies working completely in the domain of technology invest a lot in cloud storage services to improve and protect their model of communication and structure of storage.
However, it doesn't mean that small businesses don't need it at all. Regardless of the level of business, it's mandatory for every organization today to incorporate secure cloud storage service because nothing is more critical than crucial data, which is a powerful weapon. If it is lost, the business loses its value.
I hope you are now familiar with the benefits of secure cloud storage; never neglect it if you are tech-savvy and don't want to complicate things. Above all, you should understand that relying on cloud storage services will ease your work and provide more security and protection.
---
Related Post