Perhaps Residences Should Start Considering VoIP Phones Too
Updated On November 17, 2022 | by Ankit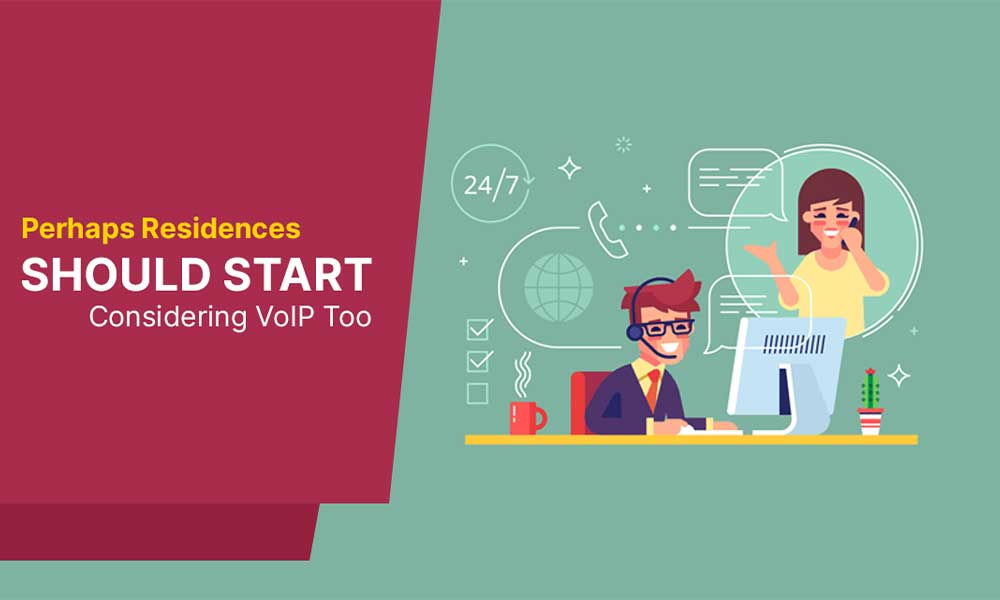 People are moving towards cord-cutting solutions. Netflix, Hulu, and Amazon Prime offer wireless streaming services to counter the ancient technology of cords and cables. Similarly, VoIP technology has brought about a paradigm shift from old telephone lines to modern technology. VoIP is an advanced technology but it's not something only for businesses. Many households are now considering small business VoIP phone service for their homes.
You must have gotten emails or ads from companies offering triple-play services. This triple-play service is their bundle deal that includes Internet, TV, and phone services at a discounted rate than if you buy each service individually.
The phone service that the ISP offers is an example of VoIP. So, VoIP for home isn't a new thing. But people fail to realize that the latest VoIP offerings have significantly improved the triple-play business model. Independent VoIP home phone service providers offer better rates and quality without getting stuck in a contract for the phone provided to you by Internet Service Providers (ISPs) in your area.
Why You Might Need Residential VoIP?
Like I said before, you might have gotten VoIP services offered as a bundle deal for your home if you use Internet or cable from one of the bigger names in the ISP service game. But the VoIP package offered by such names does not match the quality, features, and ease of use provided by dedicated VoIP companies. The simple reason is that these ISPs often spread thin their already busy servers with more traffic
and customers. So running TV services, phone services, and Internet on the same network would hit the quality department of these services massively.
Luckily, quite a few third-party VoIP providers focus their services on the communication side of things and these providers have the benefit of not being tied with any large commercial ISP providers.
So going for a dedicated VoIP service for your home would be several times more beneficial than purchasing a bundle deal offered by your ISP. You will be getting a more focused product that isn't limited to TV and internet services.
What VoIP Features You Should Look For?
Going with a residential VoIP service provider, you will get unobstructed bandwidth along with unlimited worldwide calls. Other features you should look for when going for a VoIP service for your residence include server-backed voicemail, conference calling, caller ID, call waiting, and 911 support (also known as E911 support). Server-backed voicemail means that the VoIP will save your unanswered calls as voicemails on its servers, and you won't need a separate answering machine for it.
Conference calling is another big deal you might think gets needed in businesses only, for work meetings, etc. But you may be surprised by the number of times you need to make plans with your friends or family, and you need all the party members present on the call.
So this technology isn't only for small business VOIP phone service. However, these services are not offered by every ISP, so these are the must-have features you should look for when purchasing a VoIP connection for your home.
Another benefit dedicated VoIP providers should look for is cross-platform support on existing hardware. This cuts the cost of buying separate hardware every time you upgrade or change your VoIP home phone service.
It's in stark contrast to the business model approach that giant ISPs take. Their services require special hardware which they then upsell you or charge an exorbitant amount for. Some VoIP even adjust your smartphones to become compatible with their communication technology, which adds another degree of comfort. Dedicated residential VoIP providers need some time for the initial setup to ensure your smartphone gets connected to the router and configured to connect to the VoIP servers.
And if some residential VoIP service requires dedicated hardware to run properly go for the ones that have Plug N Play enabled. These devices require no technical knowledge to set up and simply need to get turned on to become usable. Simply turn on the power button, connect to your Wi-Fi router, and start making calls with the magical powers of the Internet.
Now that we have gone over the benefits of having a dedicated VoIP service for your home, now comes the hard bit. It's time to look for the best VoIP home phone service.
My Recommendation for the Best Residential VoIP Service
This was a tough call to make since the VoIP market is brimming with quality products at competitive prices. The competition is sky-high and it can be hard to distinguish the best residential VoIP provider in the business. But due to the sheer volume of features and compatibility, my recommendation is Axvoice.
The service gives the best value on residential internet calling plans for USA and Canada and after making its mark in the IT business industry, Axvoice is looking to establish itself in the residential VoIP commercial space.
Having been widely known as the best small business VoIP, it's easy to imagine why Axvoice is making the shift to communication technology solutions for private residences. Axvoice is utilizing its trademark communications technology suite meant for small business VoIP phone service and shrinking it to fit into the home environment.
It means the same features that small businesses get are now offered by Axvoice at even lower prices for your private residence. These include clear voice, conference calls, multiple phone lines, and voicemail and account management. But, that is not all. Since, households are more likely to call local numbers for ordering food from their favorite Chinese takeaway, for example, the residential plan includes unlimited local calls.
But what about if someone has relatives living in Mexico or Sweden? Well, fret not, Axvoice has you covered, too. Along with unlimited local calls, the service has unlimited long-distance and off-network calls pre-activated in the same deal. So you don't have to worry about roaming charges, hidden fees, or international call taxes of each country.
If you go for the separate monthly package, it will cost you $15 monthly, but if you go for Axvoice's best value deal, you will have to pay $99 for the whole year, which equates to $8.25 per month. With this, you get free hardware, free setup, and free activation on your phone.
All you need is a decent internet connection, an Ethernet port on your Wi-Fi router that's not in use, and a touchtone phone. The Ethernet port connects the router to the Axvoice device to enable VoIP calling.
---
Related Post