What Are the Best Free VPNs For Windows 10?
Updated On December 16, 2022 | by Ankit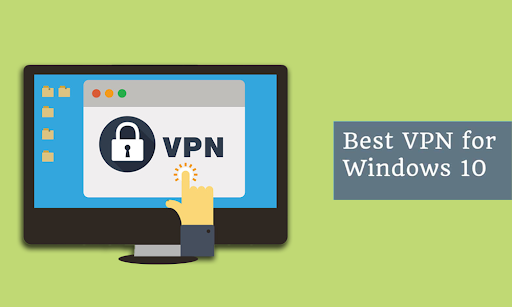 It is a very well-known fact that installing a VPN adds an extra security layer to your device. Whether you use Windows, Mac, Android or iPhone, having a VPN is a must. Whenever you connect to a free public Wi-Fi hotspot, your data is at complete risk of getting stolen. Installing a free VPN software always comes handy to deal with privacy issues and it is also a better option as compared to Proxy software.
While looking for a free VPN for PC, you must know what purpose it must serve in order to be the best. Virtual Private Network (VPN) enables secure internet access along with remote desktop access, sharing of files and folder and much more. In simple words, it protects your identity when you are online whether connected to a public or private network.
So now you know what VPN is used for, you need to recognise the best free VPN for Windows available in the market. If you are sceptical about using one, here we are to sort it out for you.
Top Free VPN for Windows 10
Hotspot Shield Free VPN
By installing this software on your PC, you can stay assured of online threats. It also offers complete anonymity and proxy that ultimately leads to more secure browsing. Hotspot Shield lets you hide your IP and with its free plan, you get to protect up to five devices simultaneously along with 500MB of data per day. If your only purpose of using VPN is security, you can completely trust Hotspot as it provides 'military-grade encryption' so that you can safely perform your online banking and shopping transactions.
Visit- https://www.hotspotshield.com/free-vpn/
TunnelBear VPN
Apart from being user-friendly, this software involves a simple installation process. Recently, TunnelBear has upped its game in terms of privacy as it now collects lesser user data, so from now it will not ask you to provide your first name to sign up. It also blocks all tracking websites, hence, there is no fear of getting tracked or hacked. There are several free and paid subscriptions to choose from. If you think 500MB of traffic per month is not enough for you, you can move to a paid plan for extra protection.
Visit- https://www.tunnelbear.com/
Windscribe
Another name in the free VPN list, Windscribe is one of the super-secure software that offers an excellent privacy policy. If you need more data than that offered by TunnelBear, here you get 10GB standard bandwidth per month. It doesn't store connection logs, IP stamps, or sites visited by you. However, it stores your username, the VPN server you are connected to, as well as the amount of data transferred but all this get erased within the three minutes of session ending.
Visit- https://windscribe.com/features/use-for-free
Avira Phantom VPN
Avira VPN service provides a secure, encrypted, and unidentified access when you are connected to the internet on your Windows PC or Android device. It ensures complete online privacy by encrypting the entire communication between your PC and the network it is connected to. You can also perform financial transactions using a shared network if you have this trustworthy software as it guarantees that none of your online activities is tracked by any illegal parties. It allows changing IP address and the best part is that it gets easily installed on your PC.
Visit- https://www.avira.com/en/free-vpn
Speedify
Speedify is one such software that has the aim to maintain your internet connection speed and it also ensures that you get benefitted from encryption. Even if you have one type of internet connection, its turbocharging technology will make the speed better. It is really promising software when it comes to maintaining privacy and on the performance level as well, this VPN is something worth trying. This software is all that you need for the purpose of basic surfing and emailing. Free users get only 5GB that is relatively less when it comes to other software.
Visit- https://speedify.com/
Globus Free VPN Browser
This virtual private network hides your IP address and you can get easy access to any of the restricted websites. In the complete package you get, there is a VPS agent and a browser. As and when you download and install this VPN, the browser gets automatically installed and also get pinned to the taskbar. The software encrypts the entire traffic anonymously and gives you a list of IP addresses to choose from. Moreover, it is easy to use and you get complete protection against data acquisition.
Visit- https://globus-vpn-browser.en.softonic.com/
ProtonVPN Free
It is another provider that offers a free VPN and there are no bandwidth restrictions that indicates you can use as much data as you want every month. The free version is really impressive with no-logging policy and only email address is required to sign up. But with the paid version there is much more that it can offer as the free one supports only one device.
Visit- https://protonvpn.com/free-vpn
Betternet VPN
This easy to use VPN allows simple activation and it is one of the best free VPN software available out there. There is no need for subscription and it is designed for both PCs as well as Smartphones. Some of the worth noticing features of this software includes good speed, avoid cookies, hides your IP address and you can also access the restricted websites of your area.
Visit- https://www.betternet.co/09.
Hide.me
Another great VPN for Windows 10 that is available for free as well as paid version, Hide.me is the one best software for security purposes. The free one provides you with 2GB of data every month along with good connection speed. It also claims that it doesn't store any logs or user data, hence chances of getting data transferred to an illegal party is no more a doubt.
Visit- https://hide.me/en/free-vpn
Spotflux
It is one of the free VPN software that ensures an encrypted connection and provides you help with safe and uninterrupted browsing to transfer your data. It safeguards your data from the hackers and also that your online activities are not tracked by internet agencies. This is done by providing a random DNS and IP addresses. Apart from this, it also scans your incoming connection and protects them from malware.
Visit- https://spotflux.jaleco.com/
VPN is an essential component to keep you safe, secure and private over the internet. So if you don't own a VPN yet, you can grab one for free out of the above options.
---
Related Post