Myths of Small Business Financing
Updated on October 18, 2021 | by Alex Jones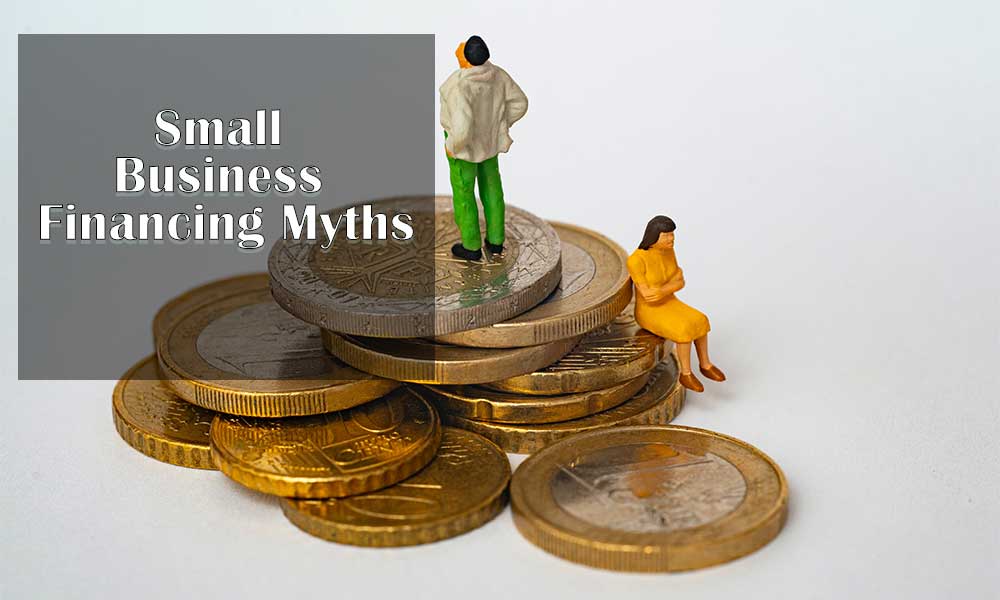 Becoming an entrepreneur is a transformative adventure. Being your boss, increasing your income, and achieving the independence you dream of seems like an enticing offer. However, launching a new business also comes with challenges, such as a lack of capital. If you don't have savings, accessing financing can become a nightmare due to lack of credit history or low income, especially at the beginning of your entrepreneurship.
Unfortunately, financing has been stigmatized for many years. There is a myth that says that credits are bad, but this thought is far from reality. A loan will allow you to access products or services for your business without putting your assets at risk. The key is to have a healthy relationship with financing through control based on order and discipline. Learn more about small business loans.
But this is just one example. Don't let a lack of knowledge or emotion keep you from your ideal business. Next, we'll bust the four myths of small business financing.
Four Myths About Financing
1. Financing Generates Unpayable Debts
Accessing financing does not mean asking for money that you will never be able to pay. Before applying for a financial product, define a realistic objective and budget. This way, you will avoid getting money that you do not need or will not be able to pay. The best loan is the one that fits your needs, research all kinds of offers and find the most suitable for you and your business.
2. Banks are the Only Option
For many years they were, but this story has changed. Today, fintech and multiple financial institutions are authorized and validated to grant financing such as online lenders, CDFI (Community Development Financial Institutions Fund), Credit Union, among other options. Financing needs have diversified, and the supply takes advantage of this opening and finds the best loans.
3. The Process is Slow and Difficult
Having banks as our only reference, we believe that it is complex due to the multiple and challenging requirements, especially for someone just starting on the entrepreneurial path. As there is a greater offer, this has also changed. In a traditional institution, the approximate approval time is between one and six months. On the other hand, with an online lender, the application and delivery of the resource can be achieved in no more than five days or even from one day to the next one.
4. Small Businesses are Always Rejected
All of the above myths discourage companies from obtaining funding and the figures support this: only 37% of companies apply for financing, according to information from the Small Business Credit Survey 2021. One of the main reasons for not doing so is demotivation generated by old ideas. Don't let a lack of information limit your business potential.
How to Choose the Best Financing Option?
As we have already mentioned, there are more alternatives of institutions specializing in providing loans or financing for companies every day. Now it is up to you to choose the one that best suits your needs. To do so, make a financial projection in advance to plan your growth.
For example, if you require capital flow, you can apply for working capital loans; to supply your store there are inventory loans. If the objective is office equipment acquisition, you can turn to small business loans or solopreneur loans. Do not choose hastily; seek advice and compare offers.
Good Practices When Obtaining Financing
Whatever financial product you apply for, remember that to maintain a healthy relationship with an institution, you will have to assume the commitment with responsibility and consistency. The first step is to be very clear about where you will get the money to pay for the financing and not to deviate from the plan for its use.
Then use a loan calculator, available on some online lenders' websites, to make an exercise on the amount you can access and the monthly payments you will make.
Manage the financing money separately from the company's cash flow, record every penny spent, and pay on time. Following these simple tips will be much easier to build a healthy relationship with financing and good credit history to access bigger and better loans in the future.
The growth of a business depends on access to capital. Establish a growth path for your firm and research different financing products to achieve your goals. Don't wait any longer, access small business loans and get a company exactly as you dreamed it.
In regard to small business, you can consider reading the following related posts also:

Small Business Essentials: 10 Items You Need to Succeed

What are the SEO Tips for Small Businesses?

Top 7 Benefits of Branding for Your Small Business: By Experts

Benefits of Cloud Computing for Small Business &
Related Post