Men's G String: A Comprehensive Guide
Updated On January 17, 2023 | by Bhavya Singh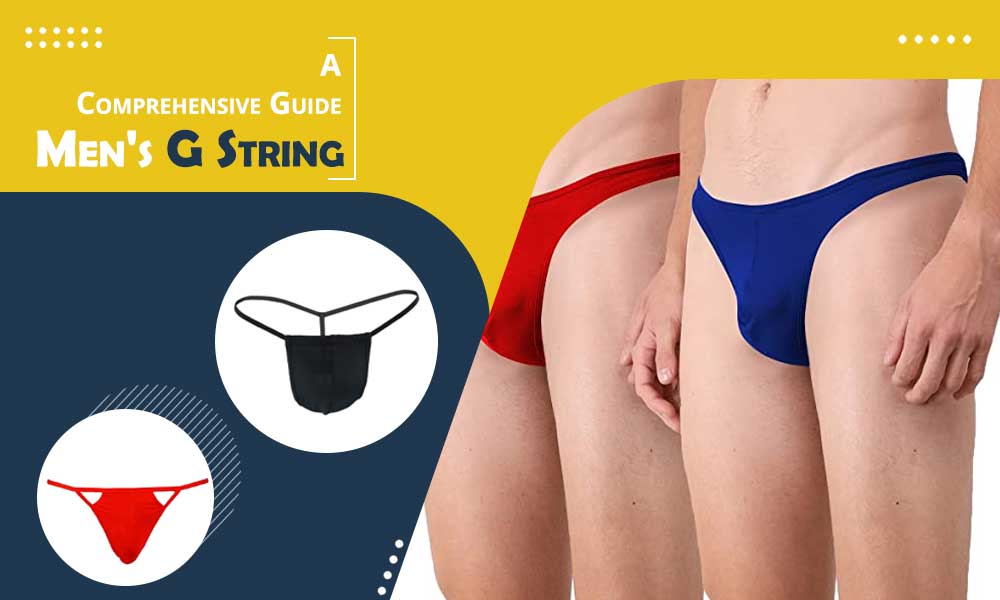 Men can wear anything they want, including g-strings or thongs. You do not have to care about what society says about a male g string. Get them if you feel comfortable in them and believe they would look good on you.
This guide will talk about everything there is to know about male G strings and what to watch out for when buying them.
Male G String Styles
There are different styles of men's g-strings available for you to choose from. If you are new to the male g-string world, you must know that you have options. You do not have to close yourself in a box and get regular ones.
You can explore your options and try out the different styles of male g-string underwear manufacturers have made available.
Plain g-string options are available for those who like plain solid colors and do not think patterned styles suit their look. Pattern styles are also available for those who like to tell a story with their underwear. You could have bananas on them, cherries, or even someone's face. The decision is yours.
Tips to Help You Get the Right Male G String
When buying a g string, you want to ensure that the one you get is comfortable, suits you nicely, and has a perfect style. Here is a guide to help ensure that you get the right g-string for men.
Check the Size
The first and most important thing you need to consider when buying a g string is the size. You do not want to get one that would be tight and uncomfortable. It is important to ensure that the g string is not too tight and has breathing room.
No matter the style of the g-string male underwear, you have to ensure that you look for the correct size, so you do not end up hating it.
Examine the Fabric Use
Fabric choice is also an essential aspect when buying male underwear. You have to ensure that the fabric you choose will not be harsh on your skin and cause you to have allergic reactions.
The fabric of choice must be soft, comfortable, and breathable since it touches a sensitive area that needs to be taken care of. Make sure not to ignore this when shopping for your g string.
Buy From the Right Brand
It is important not to buy male g string from a brand all because they are popular. There are big brands that do not care about comfort, making you wear a g-string that is itchy and uncomfortable.
Having a big brand name does not mean that the underwear would be best for you. Some of these brands may not even have what properly soothes your preference. Ensure you make the right decision because you are the one that has to wear it.
When manufacturing the products, you want a brand that considers the durability, construction, fabric, color, visibility, and comfort of the male g-string underwear.
Determine if You Need the Pouch or Not
Traditional men's underwear designs usually hold the genital area tightly to the torso. This increased the temperature in that area, making people sweat and causing other connected problems.
Men's g-string underwear pouch is anatomically designed to lessen this obvious problem. It has a bag built in that improves the situation of the entire pack. This is not only pleasing but also a practical need. It gives your genitals more breathing room.
The improvement in men's g-string underwear's side and back visibility comes with the benefit of lowering sweat, rashes, and other repugnant issues.
These top attributes will help ensure you choose the right g-string you can rock and feel confident in.
Get Yourself a G String
G strings are available for men as well and not just women. Hopefully, this guide has helped you realize that there are different styles of g strings for men for you to choose from, and you would need a guide to get the right one. You can wear them proudly as long as they make you feel good and confident.
---
Related Post