OneConvert: An Accurate Free Online Conversion Calculator, 2023
Updated On July 17, 2023 | by Zayn Tindall
Make your job easier and faster with a free online unit converter OneConvert. Switch between different metrics and file formats in a blink of an eye with this accurate and easy-to-use tool. With 24 conversion calculators, this application has a friendly user interface providing an easily available service.
Now you don't need to do the conversion calculations manually because OneConvert will do them for you. It has a free desktop version that is simple to use and converts every length, distance, mass, area, acceleration measure, and much more. Check out the functionality of the service and see it for yourself.
Do You Know: OneConvert is present as a desktop application, web app, and mobile app on the internet for users to access its services easily.
OneConvert Features: How are They Helpful?
OneConvert combines in itself all the best features of an online calculator. It is an effective user-friendly tool that does the unit conversion task in the blink of an eye. It's a very helpful tool that has major unit conversion options from complex Viscosity Kinematic converters to easy Length Converters. It's an ideal measurement converter that can convert and calculate every minor measurement with a single tap.
It includes twenty-four unit converters. Featuring length and speed converters, the service also has some really specific calculators to use, including:
Surface tension converter
Concentration-Molar converter
Viscosity-Dynamic converter
Permeability converter
Fuel Consumption converter
Weight and Mass Converter
Energy Converter
Time Converter
Data Storage Converter
Linear Charge Density Converter
Pressure Converter
Concentration Molar Converter
Permeability Converter and much more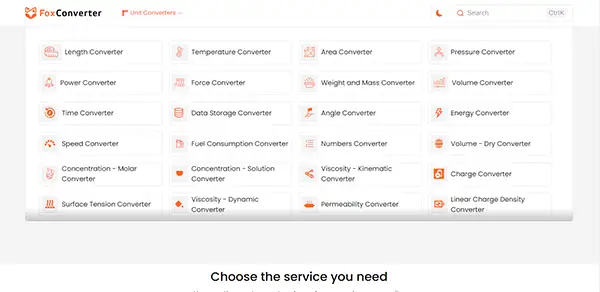 This allows using OneConvert not only for some routine calculations but also for some highly-specific types of jobs. So whether you work in engineering, chemical industry, or other spheres that require working with various measurements, this measurement conversion tool can work for you. You will be able to get every conversion in seconds regardless of the task you give it to convert as it covers all major unit conversions.
Navigating through OneConvert
If you navigate the website on your PC or use it from your mobile device, the functionality stays the same. Regardless of what version you use, it allows for a quick search of the needed unit calculator. For this purpose, there's a special box at the top right of the page.
The user-friendly interface assists the user in every possible way. Being a highly reliable service provider, users with any difficulty to convert any units, can save a major part of their time and get the results effortlessly. You can also look up the needed converter in the list of the most popular ones that you'll find on the service homepage.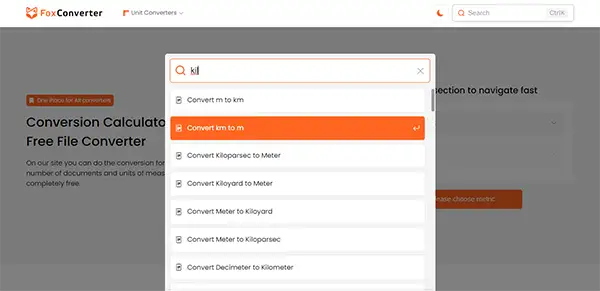 Even with zero experience in utilizing such websites, you'll find your way through it in a blink of an eye.
Why Choose OneConvert?
With a plethora of online unit conversion services available online, you may wonder how OneConvert is better.
It doesn't require you to register on the website or provide any information about yourself.
It is the calculator free from any fees.
OneConvert features more than two dozen converters of all sorts. For example Energy Converter, Time Converter, Viscosity Converter, Linear Charge Density Converter, Permeability Converter, Fuel Consumption Converter, and much more.
You get the opportunity to convert hundreds of units within a single online platform.
The conversion is done instantly, so no need to wait.
Due to the mobile-friendly version of the calculator, it is always with you.
With a user-friendly interface you won't get lost in its application, every conversion is easy, simple, and secure.
A broad functionality, high speed, intuitive interface, and accuracy of the calculations leave no chances for other similar services. Choose the best. Choose OneConvert to be a part of efficient services in converting the measurements and save your time through easy on-the-spot answers.
OneConverter Pros and Cons
Here is a table showcasing the positives and negatives of the OneConverter application briefly.
Pros
Cons
Various units converting options.
Instant Results while changing measurements.
User-friendly interface.
Free Calculator for more than 24 measurements.
No initial website registration is required.
Require a good internet connection.
The desktop application is very minimalistic.
Closing Thoughts
OneConverter application is a helpful application for businesses, students, and common users to get the measurements conversion of various kinds very easily. It does every conversion in a short time and helps the user get the results in a fraction of a second. It is a highly recommended application that functions actively to provide users with an amazing experience with measurement conversions. This is currently the best version available on the web and is free to use.
---
Related Post