30 VIP Row Alternatives to Stream Your Favorite Sports.
Updated On August 16, 2023 | by Gaurav Kumar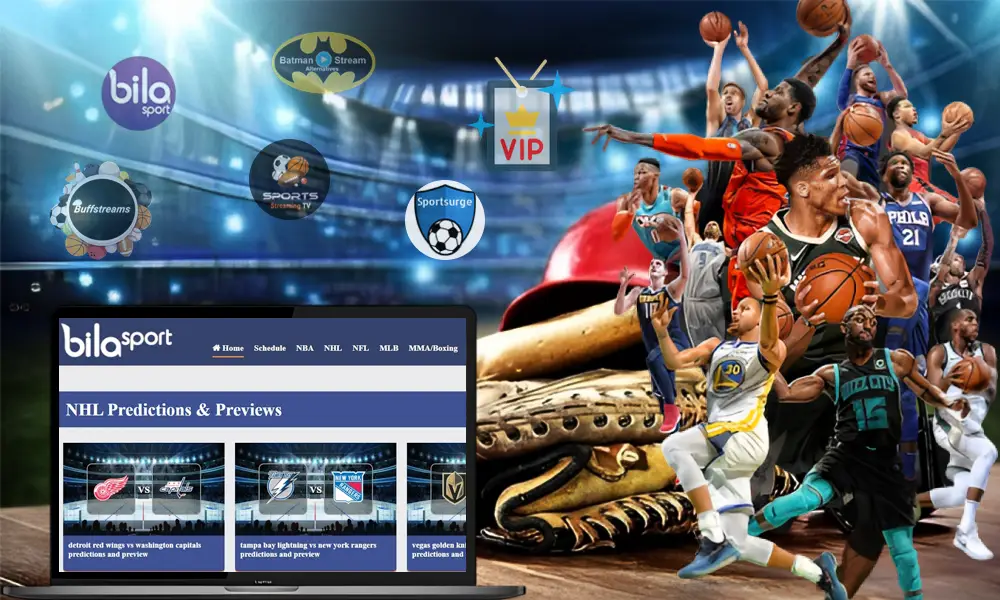 VIP Row is a go-to site for sports fanatics. It is counted among the best sports streaming platforms on the internet, open for everyone, just make sure to get rid of your slow internet connection, and you can enjoy your favorite sports.
Whether you want to watch live sports, online TV, or events, Viprow.ru has it all. Talking about sports, the platform covers Football, MMA, Boxing, WWE, Basketball, Baseball, Ice Hockey, Golf, Darts, Cricket, Formula-1, Motogp, Tennis, Volleyball, Cycling, and many more.
With so much into it, it is evident why VIPRrow sports has a huge audience base. However, due to some technical and domain authority issues, the site slows down a bit. Even after choosing the best VPNs users were unable to use the platform, henceforth interrupting the video experience. But no need to worry as we present you with 30 VIPRow alternatives you can try whenever you want.
What is VIPRow?
It is a sports streaming content platform that allows viewers to watch all types of sports from all over the world for free. This is a web-based platform that can be accessed on all devices. Plus, you can watch HD content too on this platform.
Why Do You Need VIPRow Alternatives?
VIPRow is great, but it is important to know about its alternatives as well. As the platform sometimes experiences downtime due to domain authority and copyright-related issues, it may hinder the watching experience. So it's better to switch to another platform to avoid missing out on sports matches.
Best 30 VIP Row Alternatives to Try
Here are the best VIPRow alternatives you can try to watch UFC, MMA, Cricket, or any game you want:
VIPBoxTV
Official Site: VIPBoxTV
It is a relatively new platform to the VIP Row, but it is growing tremendously. The platform lets users watch live matches, replays, and other videos. The services are free of cost and the website is compatible with Android, iOS, Windows, and MacBook.
The main motive to design the platform was to bring sports fans together from all over the world into one place. You can find it all here, whether you like cricket or table tennis. There are more than 33 sports categories you can explore along with its top features like dual-channel streaming, changing video quality, and others.
Buffstreams
Official site: Buffstreams
Another free sports streaming platform popularly famous for soccer, NFL, NBA, boxing, and other sports. You can also telecast your video games on the portal and play it with your friends and even update it to the latest versions. You can access Buffstreams on your Xbox and integrate the games into the portal. All you need to do is get to the website, create your account, and start watching your favorite sports channels.
SportsStream
Official site: Sports Stream
Talking about quality and features, SportsStream is one of the best alternatives to VIPRow. The portal showcases upcoming matches and notifies the viewers about them. You can even watch TV channels, and the portal also telecasts in different languages. If you do not want to miss any match even when traveling, get access to SportsStream and you are good to go!
SonyLIV
Official Site: Sony LIV
The well-known online streaming portal developed by Sony channel is a delight to the viewers. From TV series to wrestling and UFC matches, this portal is home to all. Not just live matches, you can also rewatch the missed games or even save highlights on SonyLIV. You can get this site online through a browser or even download the mobile app for Android and iOS devices.
The content-streaming platform also covers ICC occasions like World Cups, Test matches, and others. Unlike other content streaming platforms we have discussed till now, SonyLIV is not free and is available on a monthly and yearly subscription basis.
Sportsurge
Official site: SportSurge
Sports fans can open the door to a wide sports library through the Sportsurge website link. Viewers can even watch the matches after they have been telecasted. Not only that, but you can also watch all the sports-related events through the portal. It can be accessible on all devices. So what are you waiting for, sign-up to the portal and enjoy your favorite sports anytime, anywhere.
Ronaldo7
Official Site: Ronaldo7.net
Well you might have guessed it by the name, this online sports streaming portal telecasts Ronaldo's favorite sport, i.e., football. Widely popular among football fanatics, this platform lets you search and find the game you want to watch anytime. So whether you are a supporter of Brazil or Argentina, you have to have this portal to enjoy the most significant football events worldwide.
Bilasport
Official Site: Bilasport
Bilasport is also a free sports streaming platform that does not even require sign-up from the users. You can directly go to the website and watch games from the displayed section. The website has many divisions like Eastern, Western, Central, Atlantic, Pacific, Southwestern, and others that help the viewers segregate and watch the preferred content. Name any sport, and you will definitely find it on Bilasport and that is why it is among the top alternatives of VIPRowsports.
Crackstreams
Official site: CrackStreams
Crackstream is another sports content platform that telecasts live sports matches. The best part is that it also showcases major boxing matches from all over the world. All the crazy UFC and MMA fans can spend their time watching their favorite games for free via this platform. Moreover, you can also register for the upcoming stream and the portal will send the notification to you so that you do not miss out.
FirstRowSports
Official site: FirstRowSports
When we first got to know about this site, we were not so impressed by the way it looks. However, upon using it we found out the site has a very simple user-friendly interface so that it can cater to people who are not very tech friendly. Apart from that, the site loads faster than any other because of its simple features and functionalities. But that does not mean, the content they provide is any less than others. You can find everything you want to see about sports here and even check the live scores.
Stream2watch
Official site: Stream2watch
Stream2watch does not only telecast games but also streams major sports channels that you can play all day long. On this platform, you can find soccer, football, volleyball, basketball, baseball, boxing, golf, tennis, rugby, Motor, MMA, and WWE games. You can choose the game, scroll through the live events and play it on your device. The portal supports all kinds of devices but make sure that your browser is free from cache and cookies so that it does not interrupt your watching experience. Moreover, you can also try Stream2watch alternatives and find which platform you love.
Batmanstream
Official Site: Batmanstream Sports
The platform can be streamed in any nation you belong to in different languages. You can launch the website on your browser and start streaming your favorite shows and live matches. This is one of the best alternatives to VIPRowsports, and we can safely say even better than it because it offers some extra supportive features to the users. Apart from that, it has a secured extension, so you can browse it on any device without worrying about viruses or malware.
StopStream
Official site: Stopstream TV
Stopstream is a great resource to get access to a wide library of games, tournaments, and events from all over the world. The site has a black colored layout and supportive features that let you quickly locate your favorite games. You can stay up-to-date with the dates of the matches by saving the portal in one of the browser tabs and by frequently accessing it.
Talk about Tennis, soccer, or boxing, you get everything to watch on the portal. But you know what makes it different? You can chat with other viewers in real-time with the help of its chat tool and have fun by connecting with others and who knows, you can find your game bestie.
Feed2All
Official site: FeedAll Football Soccer Channel Schedule
Another great VIPRow alternative is a blessing for sports enthusiasts; Feed2All showcases all types of sports. However, it mainly focuses on Soccer. So this site can become a favorite for soccer players and viewers. You can go through the classified sections on the website to locate and filter according to your choices. Apart from that, it also shows player details, live scores, and match highlights. In case you miss any game, you can save and play it later according to your schedule.
Laola1
Official site: LAOLA1
With Laola1, you not only get the opportunity to watch sports, but you can also get access to exciting video games. It is pretty different from other streaming channels as it shows behind the scenes, gives news from the world of sports, and telecasts small video clips which are a lot easier to watch on the go. Whether you want to listen to players' interviews or watch them go on the field, this VIPRow alternative should be your go-to website. Plus, it is absolutely free. So what else do you need for your Friday nights when you can have a fun time streaming popular games with this platform?
Sportlemon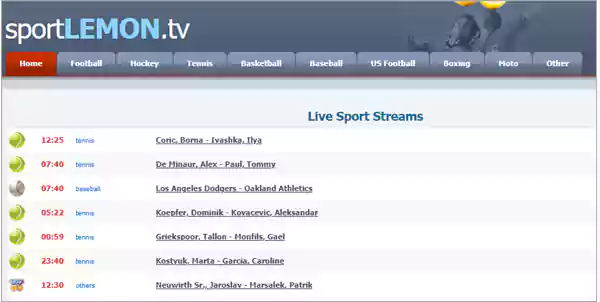 Official site: Sportlemon
This sports channel allows you to watch your favorite sports anytime and anywhere in the world. You do not need to download any video, play it directly through the portal and get the option to convert the video quality into HD, and that too for free. The platform works with all browsers and is compatible with all kinds of devices too. It does not have any apps or add-ons. Each sport takes you to a dedicated portal where you can find tons of live and previous games. You also get the option to chat and socialize with other sports fans all across the globe.
Rojadirecta
Official site: ROJADIRECTA TV
One of the best on this list is Rojadirecta to watch sports channels. Quite uncommon, this site does not have classifications of different sports. You can see the list of matches from all types of sports on the homepage and by clicking on the preferred match, viewers can play or watch it later. This single-page site has a very user-friendly interface with no complex features.
The content on the platform is updated every hour by the team. Apart from regular matches, you can also play exclusive coverages and prestigious events of famous sports persons. That's not just it, the portal also offers downloads, tutorials, and discussion forums for the viewers, and it is also available in Spanish.
StrikeOut 
Official Site: Strikeout
Fan of college football and the Premier Leagues? No other platform can beat the matches showcased by StrikeOut. Similar to its name, the platform also has tons of powerful features and functionalities that make it stand out from the rest. You can access the site on any device of your choice. Plus, if you want to update your watching experience, install a Flash player and adjust the quality of the video. Well, it also comes with an integrated Flash player that you need to set up while streaming the videos.
Bosscast
Official site: Bosscast
This may not be the first time you would hear about Bosscast. The platform is already famous and has over a million regular viewers who like spending time on the site watching live matches. The website runs very smoothly, so you do not have to refresh the scores of the match. This VIPRow alternative also gives an opportunity for the viewers to chat and connect with other sports fans. The platform serves more than 130 countries and always provides up-to-date information.
FuboTV
Official site: Fubo
fuboTV strongly stands with its tagline, it actually gives the experience of watching TV just without the cables. This platform is not free like many others on this list but has excellent things that overshadow its subscription charges. Moreover, you can get a 7-day free trial to be sure about purchasing.
It has more than 20000 channels for movies, shows, and sports. You can browse the plans and get the plan that suits your requirements and budget. The platform has fuboTV apps that you can download on your mobile device to stream content anywhere, anytime. You can access fuboTV on Amazon Fire TV, Android, Windows, Apple TV, Chromecast, Hi Sense, iOS, LG, Samsung Smart TV, Roku, and Xbox.
Bally Sports
Official site: Bally Sports
Ballysports should be your only destination to watch videos and even read blogs and news articles related to the sports world. With simple yet visually appealing features, the website screams class. The platform has four segments:
A) Watch: Here you can view the video and matches of all the sports.
B) Play and Win: In this section, you can play mini-games online and win exciting rewards.
C) Bally Bet: This is the most popular platform segment that offers people a new-age betting experience.
D) Diamond Sports Info: The platform has a dedicated segment for diamondback games.
All you need to do is sign-up for the portal and get access to all these features.
Cricfree
Official Site: Cricfree
If this is your first time watching sports online, you must give it a try on Cricfree TV. We would recommend it to everyone because of its minimal features and more classifications than other portals. Its competitor VIPRow Sport uses 11, but this one has 12 classifications and more games to stream. Moreover, it also gives a chatting option with some conditions.
If you follow the rules and regulations properly, you will be eligible to connect with people all across the world. The best part is that you can watch Sky Sports 1 and Sky Sports 2 with CricFree TV for free. Isn't it great? So give it a try and let us know about your experience in the comments section.
Sports365Live
Official site: Free Live Sport Streams
Sports365Live is a sports streaming platform that telecasts live matches 365 days. Unlike others, this platform does not offer any other features. You can watch live motorsport, darts, rugby, and football tournaments through the portal. On the homepage, you will see the list of live matches of different sports. All you need to do is tap on the match and play the video.
Footybite
Official site: Footybite Sports
Next on our list is FootyBite, it is the best source of live sports streams. Gone are the days when you had to stick to your TV to watch matches. You can stream to the platform even on mobile devices and watch anything anywhere, anytime. This VIP Row alternative telecasts a wide range of sports like Water-Polo, Billiard, Chess, climbing, combat sports, and more. To keep things interesting, the portal also shows trivia to the viewers along with the videos.
Also Read: Sling vs Hulu: Which Online Streaming Platform is Good for Consuming Content?
MLB66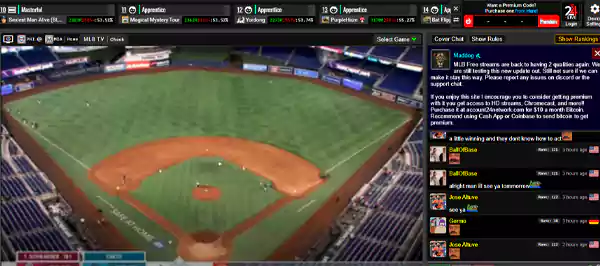 Official Site: MLB66
MLB66 is the biggest streaming host of Major League Baseball. This platform is only available in the United States, but viewers all across the world can join the streaming via any secured VPN like iTop VPN to watch sports. Baseball is one of the premium games, and MLB66 has a complete database of all the games. Not just that, you can also bet on your favorite team through the website. The maximum betting amount for one pick is $30. The platform has rules and regulations for this particular segment. You can check all the history, stats, and scores of any game.
This VIPRow alternative gives a monthly subscription option that lets you archive and save the matches and tournaments in your account section. However, you can see match highlights, and match clips, and put a bet with the free version. In case you are not satisfied, you can also try alternatives to MLB66 to watch your favorite matches.
Wiziwig
Official site: Wiziwig
This VIPRow alternative is full of surprises. You can not even imagine the number of matches and the variety of sports this platform has. Whether you want to watch any old video, you can filter out the result according to the date, month, and year. Not just sports, Wiziwig also streams live TV, which is probably the best way to enjoy your favorite TV shows when you do not have much time. Wiziwig radio is a part of the platform, through which you can hear live commentary about the matches. You can also discuss your favorite topic related to sports in the forums section.
Steam East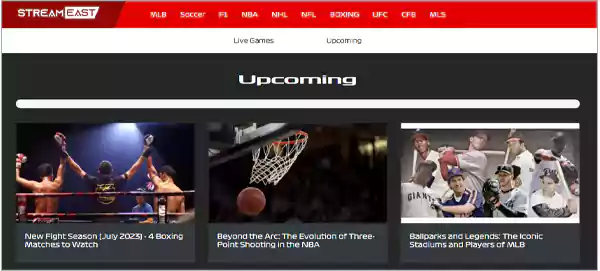 Official site: StreamEast
Stream East is a boon for every person who wants to stream sports online. This portal is equipped with multiple features that make it one of the best players in the live sports streaming category. You can watch NHL, NBA, MLB, NFL, UFC, MMA, Soccer, Tennis, and Rugby on this portal. Launched in 2018, Stream East is fulfilling all the desires of people about live-streaming. It is compatible with all devices, even with Amazon Fire TV, Roku, and Xbox. The cherry on the cake is that, Stream East is completely free, and its video quality is worth relying on.
Hesgoal
Official site: Hesgoal TV
Want to know the scores of some other matches along with watching the live match? You can see a list depicting scores of different live matches in one place. So you do not have to switch between the matches anymore with Hesgoal. You can also download an Android mobile app to stream live matches at any time. Plus, it also has a TV guide that lets you stream TV channels and watch sports according to the channel schedule.
Volokit
Official site: Volokit
Volokit streams sports like no other. The platform gives a unique viewing experience for the viewers along with giving them the option to connect with fellow sports fans. The chat option of this portal has many stickers to express the excitement of the match. The company has a huge library of games, matches, and sports events from American football, hockey, MMA leagues, and basketball.
NFLbite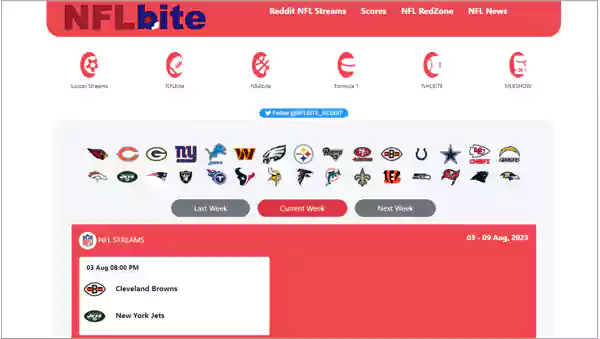 Official site: Reddit NFL Streams
This site is a go-to for NFL fans. Every single NFL game you want to watch is available on NFL Bite. You can read all the NFL-related blogs and follow their fan base on Reddit. Through its Reddit forum, you can connect with millions of die-hard fans from all over the world. This platform shows the match schedule for the current week and next week so that game lovers can plan their schedules accordingly. In case you miss any game on the platform, you can try streaming matches on NFLbite's alternative sites.
NBAstream
Official site: Nbastream Sports
The last on our list is NBA stream, which is one of the best free sources to stream live sports. Though the platform streams many sports like Basketball, water sports, and others, it mainly focuses on NBA games.
You can go through all the NBA blogs on the website and even discuss topics through their Reddit forums. Compatible with all devices, this platform is the favorite of all NBA lovers. If you do not find this platform much interesting, you can also try other alternatives to make the live-streaming surreal.
Read Next: Surfshark Vs. ExpressVPN – Who Wins the Battle?
Frequently Asked Questions
Is VIP Row Free?

VIP Row is a free content-sharing platform where you can stream several sports channels.
Does VIPRow have a Mobile Application?

No, currently there is no mobile application available for the streaming platform.
Which Devices Support VIP Row?

You can steam the sports content platform on your Android phone, iOS device, and desktop.
Does VIP Row Experience Downtime?

Yes, the platform receives DMC notifications and objections which complex it to move the domains to avoid being taken down.
Sources
---
Related Post