Turtle Beach Elite Pro 2 SuperAmp Review: All You Need To Know
Updated On September 15, 2023 | by Gaurav Kumar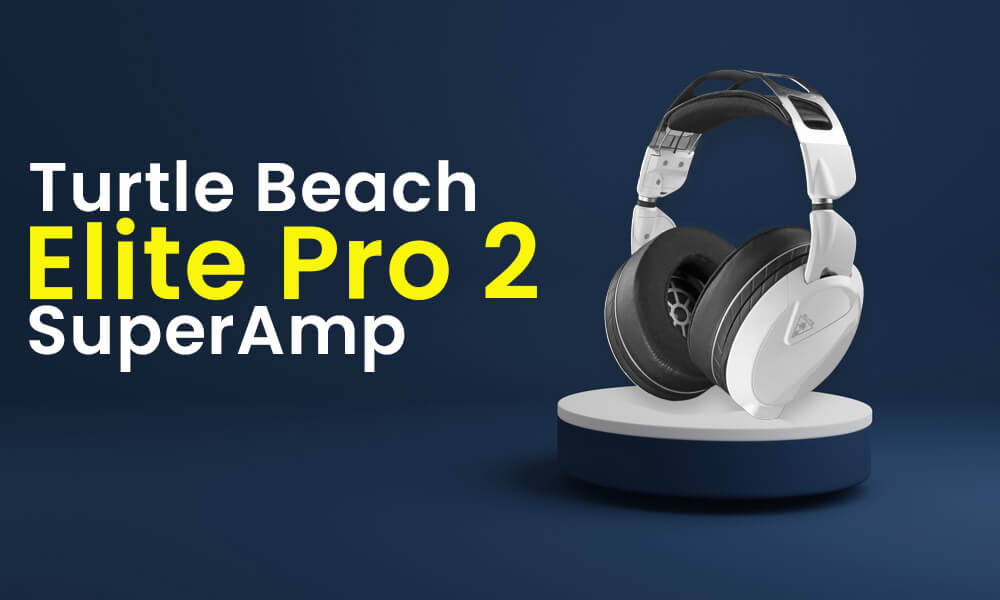 Those fond of playing online games know how pivotal is the role of audio while gaming. And when we talk about gaming audio, the first name that strikes our mind is Turtle Beach. In 2005, Turtle Beach emerged as one of the best companies to provide high-quality gaming audio headphones.
A Glimpse of Turtle Beach
Turtle Beach has witnessed expeditious growth since 2017. With its continuous efforts from the very beginning, it is able to produce outstanding results. Its first gaming headset was X51 after which this firm has never looked back. Let's start reading this turtle beach elite pro 2 review, and explore its features, functions, different versions, pros and cons, and much more.
Turtle Beach Elite Pro 2
"Turtle Beach Elite Pro 2" is an online gaming headset developed and designed by Turtle Beach company after collaborating with many other esports companies. Being made at a noteworthy scale, it consists of several features which further increase the cost and quality of the product.
How Does Turtle Beach Elite Pro 2 Cancel Noise?
Mediocre isolation is provided by the Elite Pro 2. Its thick ear pads and the fabric surface help reduce a substantial amount of noise near the user. However, the intensity of noise is also a dependent factor. The light disturbing noise may be canceled quickly as compared to those heavy sounds such as the humming of a fridge.
Also Read: How to Reduce Background Noise
How is the Sound of Turtle Beach Elite Pro 2?
Turtle Elite Pro 2 sounds very unique and perfect. However, a slight emphasis on the bass range and a fall in its highs may be witnessed. However, you will be glad to know that these small glitches are still not able to falsify the original sound.
In the headset, frequency response is excellent for electronic music. Intrinsic beats will be made by the elevated bass. Additionally, the high bass sound acts as a significant factor that doesn't mask any of the other elements.
While checking on "out of sight" by Run the Jewels", it was found that the sound was coming out at a loud volume thus making it a prominent part of all the elements. Additionally, the music produced with light strings and cymbals sounds great through Turtle Beach Elite Pro 2 which generally has low sound.
While playing any game on pc, the sound comes in the form of gunfire, explosions, shooting, and much more. The fostered bass may sound like a lion roaring loudly.
Its sound can be clearly distinguished from the other types and that's why the boosted bass becomes more noticeable. Minute sounds say footsteps in any game might be hard to listen to amidst highly energetic moments. Nevertheless, it's not a major complication and it's advised not to go too deeply to solve such mini glitches.
Turtle Beach Elite Pro 2 Performance Gaming Headset
The goal of the Turtle Beach Elite Pro 2 Performance Gaming headset
is to deliver the best audio quality through headphones across numerous platforms.
Custom-tuned 50mm Nanoclear over-ear speakers provide marvelous performance.
Noise Canceling Pro Gaming Microphone with TruSpeak Technology delivers transparent chat which is crystal clear.
The Aerofit ear cushions are so comforting that they isolate you from the outer noise. Since they are made up of soft athletic fabric and cooling gel-infused memory foam, gamers remain comfortable while playing.
Specs
Audio Connection (USB): PC: 3.5mm/pink/green splitter cable (included)
Audio Connection Cable (3.5mm): Xbox One, Playstation 4 Pro & PlayStation 4, Nintendo Switch*, Mobile** 3.5mm
*To support chat during gaming, it is a chat setting available for games.
**Mobile cable is not compatible with removable mic and hence doesn't work with it. Moreover, according to different devices, mobile cables vary.
Speaker Frequency Response: 12 Hz-20 kHz
Speaker Size: 50mm Nanoclear speakers with Neodymium Magnets
Microphone: Unidirectional gaming microphone
Ear Cushion: Over-Eat (closed), Athletic Fabric, Leather & Cooling Gel-infused Memory Foam
Constituents of Box
The Turtle Beach Elite Pro 2 Performance Gaming headset box contains:
Headset: Turtle Beach Elite Pro 2 Gaming Headset
Guide: A quick guide before you start
Cables: Inline 3.5mm Cable, PC Splitter Cable, and mobile cable
Features
Some crucial features of Turtle Beach Elite Pro 2 Performance Gaming headset are as follows:
Comfy And Relaxing Ear Cushions
The smooth fabric combined with cooling gel infused in the cushion foams keeps the gamers comfortable while they play.
Both internal and external leather sidewalls separate the users from the roar and noise of the crowd. It ensures that players will listen to the game audio only.
Advanced Mic With Truspeak Technology
In esports, squad communication is significant. If any single demand is unclear or vague, the player may lose instantly. To prevent this issue, Elite Pro 2's crystalline microphone with TruSpeak Technology is available in the device which makes sure that the user's voice is always clear and loud enough to be heard by another player during esports.
Compatible On Multiplatform
The Turtle Beach Elite Pro 2 Performance Gaming headset is perfectly compatible with
Xbox One & Xbox Series X/S
PS4 Pro
PS4 &PS5
Nintendo Switch
PC Gaming
And mobile devices
Elite Warranty & Support
A 2-year long warranty with priority support covers the headset.
Turtle Beach Elite Pro 2 Superamp (Elite Pro 2 + SuperAmp)
Turtle Beach Elite Pro 2 SuperAmp is a pro-performing headphone that offers awestruck end results through premium quality athlete-tuned speakers and a programming mic. Besides, gamers experience long-lasting comfort while wearing it.
This pro version also consists of a SuperAmp unit. Talking about SuperAmp, it's the volume control of the headset. Hence, whatever platform you are using, SuperAmp plays a significant role.
You can easily pair SuperAmp with your phone using an app or updating settings. It is SuperAmp's innovative approach to amplify and customize an app-based studio that accelerates a powerful demand for this device among users. Generally, the SuperAmp is connected to headphones over USB.
How Does SuperAmp Benefit?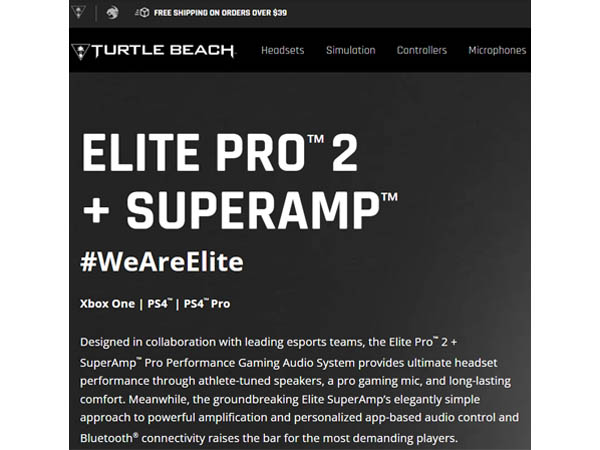 Below mentioned are some of the incredible benefits users experience through SuperAmp inbuilt into the Elite Pro headphone:
The Elite SuperAmp helps users control the game audio.
It also provides them with Xbox One and PlayStation 4. SuperAmp can be connected to Turtle Beach Audio Hub mobile app via Bluetooth also.
Through SuperAmp, players are able to customize any type of settings including game and chat audio mix, dynamic chat boost, and bass boost.
Apart from altering audio-related settings, players can also change SuperAmp's LED color and lighting mode.
Features
The specialistic audio system, Turtle Beach Elite Pro 2 + SuperAmpbuilt is built to succeed forever. Let's shed light on its essential features:
Everlasting Comfort
Metal headband with extended pad and soft ear cushions provide you relaxation and everlasting comfort.
Large 50MM Nanoclear Speakers
It's the 50mm over-ear nano clear speakers through which crystal clear squad communication can take place during esports.
Magnetic Plates of Speakers
The easily swappable plates of Elite Pro 2 have magnetic effect
Bluetooth connectivity
Through Bluetooth, you can connect the Turtle Beach Audio Hub app with your iOS or Android device to unravel the potential of Elite SuperAmp.
Dynamic Settings
You can customize further settings such as Dynamic Chat Boost, EQ Audio Presets. You can also stream any of your favorite music or take calls also while you play games.
Stream Output
You can connect the elite SuperAmp to go live during gameplay. The real-time chat streams will help you broaden your fanbase.
Pros And Cons
Let's go through the positive and negative aspects of Turtle Beach Elite Pro SuperAmp:
Pros
Amazing Audio
Comfortable headphones
SuperAmp has a mic to monitor and a sound tuning system too
Cons
Poor Bluetooth connection
To mix game sound or chats, an app is required
Elite Atlas with Astro MixAmp is better with economical price
Final Verdict
Being a gaming headset with notable features, the device holds such a strong demand that you can't resist buying Turtle Beach Elite Pro 2. If you put the software aside, there remains nothing wrong with the device.
Overall, you get a comforting headset that comprises good sound and easy usage. The headset enhances users' audio experience by amplifying different sounds. However, to escape from an extremely high budget, you can explore several more economical options which are better than this device.
Its other version, the Turtle Beach Elite Pro 2+ SuperAmp adds intricacy because of the advanced inbuilt features thus creating its utilization complex. On account of this, this model can't be suggested to tech-savvy people.
FAQs
Can I use Turtle Beach Elite Pro 2 without SuperAmp?
Though, the device is particularly used via Elite SuperAmp to the computer console with the help of a wired connection. However, Elite Pro 2 can work all on its own without the Elite SuperAmp. Some such models are 3.5mm headset jack, wireless Xbox One controllers.
How can I connect my phone to the Turtle Beach Elite Pro 2 Headset?
Press and hold on to the Bluetooth button on the SuperAmp until you see a green light. It is an indication that the SuperAmp is ready to be paired with any other Bluetooth device.
To connect Turtle Beach Headset with your iOS or Android phone, install the Turtle Beach Audio Hub mobile app. To access the app, switch on your Bluetooth and pair it with the headset. Move on to the secondary settings to assign new functions. Once the selection is done, your headset will save this command and both devices will be connected. 
Can I listen to music on Turtle Beach Elite headsets?
Yes, you can listen. You have to connect a compatible Bluetooth device with SuperAmp and then connect the headset to SuperAmp through USB. With this getting done, you can listen to any of your favorite songs while you are playing games.
---
Related Post