QuickBooks Tool Hub- Deal with All QuickBooks Errors at One Place
Updated On December 15, 2022 | by Louise Simon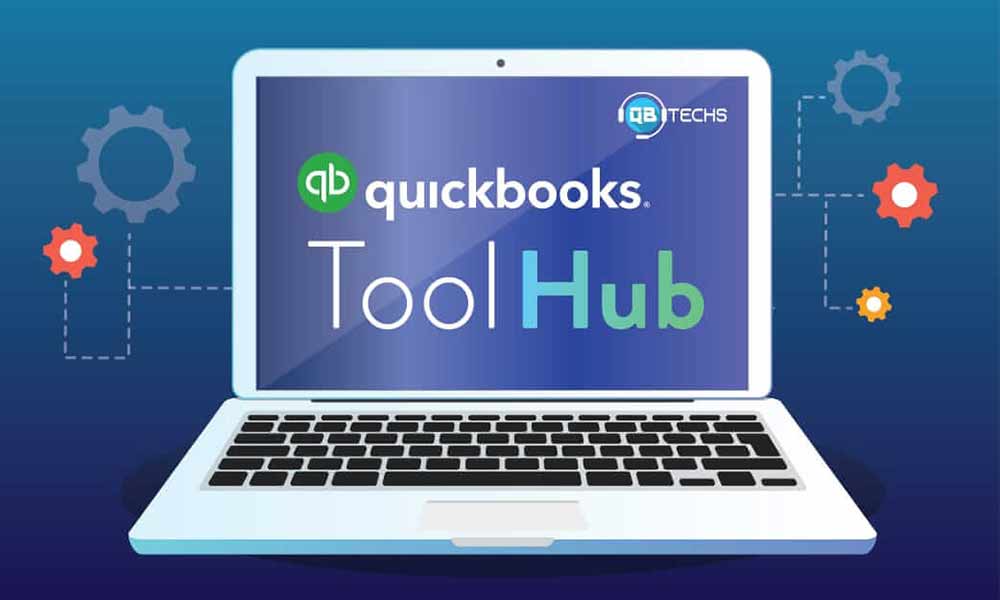 What can be more wonderful than having all the Quickbooks Tools in one application to deal with all your errors in QuickBooks Desktop right? Then this is the tool that you are looking for!
If you are handling a business then it is pretty obvious to rely on this accounting software.
The approach of errors to the system is quite common. If you don't know yet what QuickBooks Tool Hub does, then all it does is tweaks the errors disturbing your PC to run the QuickBooks Desktop by not just focussing on one of the errors but all the bugs pertaining to it.
So, when I tell, it can solve all the errors then what do I mean?
It has all the other tools included in it, which in case if it was installed individually would have tweaked specific errors but here it is all in one tool to tweak all those specific errors to do your work a little less burdened.
Meaning, you no more have to install all the applications individually. You just need to care to install this one particular tool to do all the work of what individual tools would together do in one application.
If you are certain about this tool now. Let's see what all bugs this super tool can tweak into. And here they are…
QuickBooks Company File issues
What probably can cause QB Company File issues?
If you have begun to use QuickBooks Desktop already then you would be very familiar with these issues. These errors also occur for QuickBooks Enterprise Cloud Hosting Services mostly when you`re using a cloud desktop as a service. And that is when your file gets damaged and you can't access it as how you would normally do and that's when this tool is called for. This tool offers you with inbuilt QuickBooks File Doctor to get away with this corrupted and clingy file.
Networking bugs
Heard of Multi-user mode? Then if you are confronting issues with setting up a network for hosting the files via Multi-user mode. Then it can right away fix this up for you by using the inbuilt QuickBooks Database Server Manager to set the network alright to have an error-free network to host the files.
Program bugs
If you think your software is stuck somewhere and not working fine or if any of the inbuilt tools of QuickBooks Desktop is not doing its work then this tool has Quick Fix my Program option, QuickBooks Program Diagnostic Tool, and QuickBooks Print and PDF Repair tool where it would just evade your bugs to fix any issues related to the software.
QuickBooks installation issues
If you know how QuickBooks gets installed then right, you are following me. If not, then you must know that it uses Microsoft components to install QuickBooks Desktop. If the installation files are not installed properly or if .NET framework seemed to be a big deal cause it was not updated then if any errors causing the installation process to be hard, well worry not. This will fix you!
How? Well, two tools are set up in this smart tool to do anything but you ask for tweaking in the installation bugs and they are QuickBooks Install Diagnostic Tool and Clean install tool to help you fix it in a way or two.
QuickBooks Password Resetting
Something fishy with your QuickBooks and thinking of changing the password already set? You can do that as well. Go along with the instructions on the Tool hub screen and there you are, to be done with changing the password.
If you are sure of installing and downloading this tool on your PC then hover over to this part of the article to know how to do so…
Install and download!
Click on the link below to have the QuickBooks Tool Hub setup file for yourself. Then here is your downloadable file QuickBooks Tool Hub.
Launch the file, select the location and get going with the installation.
Click on Finish and you are done. With this, the popup screen appears and that's your QuickBooks Tool Hub.
If you go through it then you come across several options and the first one is Home. This has a piece of information that gives you details on QuickBooks Tool Hub and as well details about the components that can fix your bugs.
Moving on, secondly, we have Company File issues. As mentioned above this can fix up the corrupted files. Do follow the instructions on the screen as given to run those specific tools working for you.
Thirdly, its Network issues on the list. This helps you run the QuickBooks Database Server Manager to debug your network issues. To be able to share the files with your fellow members is when you find the trouble with the network problems as you would be hosting the files. If you like to host the files, only then use Database Server Manager otherwise it would not be of any help.
As we go on, next comes Program Problems. No wonder, you have your PC in the right hands of QuickBooks Tool Hub to fix this. Here you see three tools to do the work for you.
A Quick-fix my Program option may hardly take 1 minute and if that doesn't solve your issue move ahead to take help from QuickBooks Program Diagnostic Tool which would maximum take 20 minutes to thoroughly debug your issues.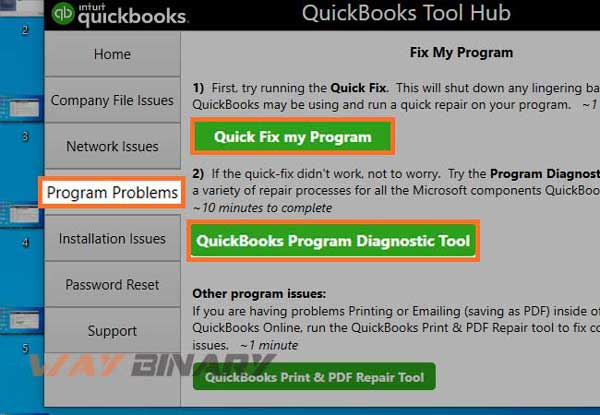 What's next in the list is Installation issues. If you are facing major problems with installing QuickBooks Desktop itself then you are at the right place to seek help. QuickBooks Install Diagnostic tool and Clean Install Tool will do the right work for you and do act in accordance with the outline of the technical procedure to get the issues fixed.
And here we come to the Password Reset option. Do not forget to be in line with the set of guidelines on the screen of the QuickBooks Tool Hub to get your password reset on time.
And finally, you have the Support option to seek any sort of help from the Technical Support team to get your QuickBooks ongoing. Be sure to try and fix the errors using this tool before contacting them to go ahead and deal with the next-level technical solution assisted by them.

I hope that the article gave you a clear picture of the smart tool named QuickBooks Tool Hub and I'd like to conclude with a statement, "One for all".