Is Charter Spectrum Offering Premium Channels on Any of the TV Plans?
Updated on June 1, 2022 | by Alex Smith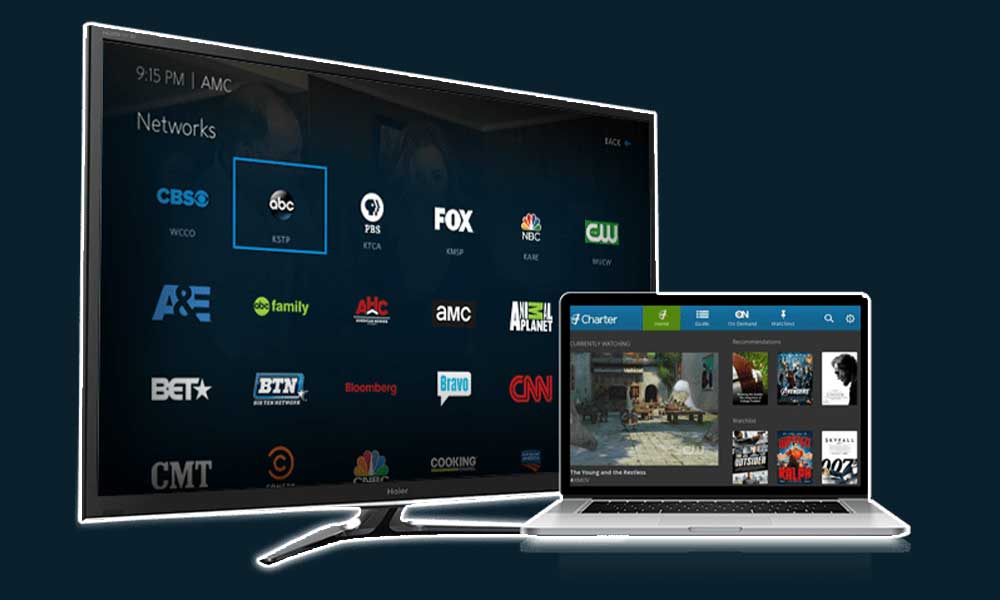 Spectrum TV plans are full of amazing features and some valuable options for the whole family. You get free HD channels for an outstandingly good viewing experience. There are no contracts and you get a 30-day money-back guarantee for all new Spectrum subscribers. Additionally, there are more than 50,000 On-Demand titles and TV shows free with all of the TV plans, whether they are separate deals or bundles.
Charter Spectrum services are available in almost 44 states across the United States. There are thousands of free Wi-Fi hotspots available all over the country, which all Spectrum customers can utilize anytime they want. There is also the availability of the Spectrum TV App with which you can take your TV anywhere you want. You never miss out on any of your favorite TV shows, movies, music, or sports channels. There is a superb channel line-up available with all of the TV plans, including some most wanted sports channels that are perfect for sports buffs.
There are three different types of plans that are offered as standalone TV deals as well as a few bundles with excellent features that are perfect for most households. They are Spectrum Select, Spectrum Silver, and Spectrum Gold plans. Among these, the Spectrum Gold package is the most amazing because of the number of channels available with it. As you go higher among the TV plans, the features also get better. When you upgrade your TV to Silver or Gold, you get premium channels like HBO, SHOWTIME, STARZ, TMC, and STARZ ENCORE.
Mentioned below are the prices of these plans:
| | | | |
| --- | --- | --- | --- |
| Plan | Price | TV channel count | TV service type |
| Spectrum TV Select | $44.99 | 125+ | Cable |
| Spectrum TV Silver | $74.99 | 175+ | Cable |
| Spectrum TV Gold | $94.99 | 200+ | Cable |
| Spectrum Double Play Select | $89.98 | 125+ | Cable |
| Spectrum Triple Play Select | $99.97 | 125+ | Cable |
| Spectrum Double Play Silver | $119.98 | 175+ | Cable |
| Spectrum Triple Play Silver | $129.97 | 175+ | Cable |
| Spectrum Double Play Gold | $134.98 | 200+ | Cable |
| Spectrum Triple Play Gold | $144.97 | 200+ | Cable |
Spectrum TV has a variety of HD channels that come without any additional costs. When Spectrum makes a promise, they follow through on their word. Moreover, if you do not want to invest in unnecessary channels then Spectrum gives you the option of add-ons as you go along the way.
The on-demand movies and other titles that you get are over and above the basic channel line-up cost. When you upgrade to their higher plans, you will get even more options for titles and programs.
Best TV Plan for Sports
We Americans are absolutely bonkers for sports. Spectrum understands this and with their Gold Plan, you get the absolute best sports channels. With the Spectrum Select plan, you will get around eight sports channels, with the Spectrum Silver package, you get fifteen channels, whereas, with the Spectrum Gold package, you stand to get thirty sports channels. There are channels available for Golf geeks that are generally not there on most TV services.
Similarly, if you have selected requirements and are alright with some of the major sports channels then Spectrum Silver will be alright for you. However, if you're into everything sports then there is nothing like the Gold plan. You are in for a surprise.
Some of these channels include
beIN Sports
beIN Sports Español
Big Ten Network
CBS Sports Network
ESPN, ESPN 2
ESPN Classic
ESPN Deportes
ESPN Goal Line
ESPNEWS
ESPNU
Fox College Sports Atlantic, Central, Pacific
FOX Deportes
Fox Soccer Plus
FS1, FS2
Golf Channel
MLB Network
MLB Strike Zone
NBA TV
NBC Sports Network
NFL Network
NHL Network
SEC Network
Spectrum Sports
Tennis Channel
Univision Deportes
Spectrum offers a DVR with all of its Cable TV plans. Now you don't have to miss any of your shows or programs just because you were not able to get access to the TV at any point in time. Now you can attend a College reunion, take part in the PTA meeting without worrying about what you're missing on your TV.
With the Spectrum TV App, now TV is on the go. If you have a stable internet connection, you can use any of your Android or iOS devices and get the same channel line-up anywhere across the country. These devices include iPhones and iPads, Android smartphones and tablets, Roku devices, Fire TV, Xbox One, and Samsung smart TVs. You will be given a password and a username which you can use to access the TV App. Just download, connect, login and you're good to go.
Spectrum Charges
Spectrum TV fees are amazingly low and if you compare them to what the rest of the ISPs are offering, you will end up choosing Spectrum over everything. Here is the list of fees that you will bear with your Spectrum TV connection.
Fee with Monthly Price
TV receiver with remote cost – $7.99/mo.
DVR fees – $4.99/mo.
DVR service package – for 2–4 DVRs, $9.99/mo.
Installation costs – $49.99/mo. (one time)
Broadcast fees – $13.50/mo.
If you compare Spectrum services with all of its competitors, they will come up as less expensive. There are so many value-added services that customers are getting with all of Spectrum's plans. With the Gold plan, you get free access to the HBO Max App while the HD box makes sure that you get amazing picture clarity and seamless service.
Spectrum Gold DVR and Other Features
With Spectrum's multi-DVR option, you can get more DVRs under one connection for every room. Now your favorite shows will not be compromised because of your kid's most viewed programs. Some amazing international channels are also available with the Spectrum Gold package. Some of the best channels provided by the ISP include languages like Chinese, French, Filipino, German, Greek, Italian, Hebrew, Japanese, Korean, Portuguese, Latino, Russian, South Asian, and Vietnamese.
We recommend that you invest in one of the bundles that Spectrum has to offer because they are the best value for money. Moreover, you should consider the Gold Plan because there are more channels with all of the perks that are available with the rest of the Spectrum plans.