3 Key Advantages of the Juniper EX3400 Series
Updated On July 17, 2023 | by Olivia Smith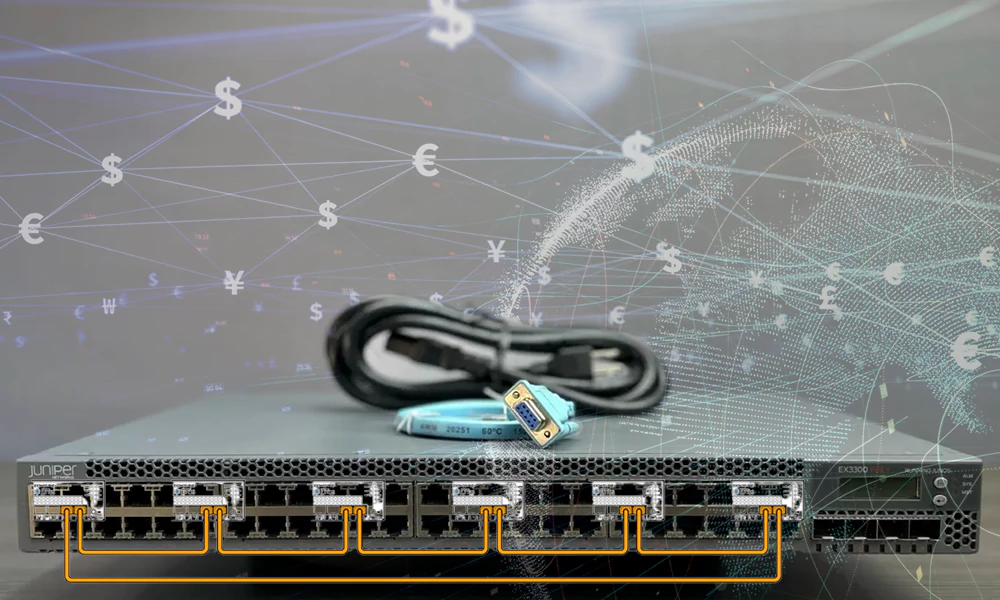 Are you looking to enhance your network infrastructure? Look for the Juniper EX3400 Series on sale at retailers like ETB Technologies. With its high-performance capabilities and advanced security features, it offers three key advantages that will take your business to the next level.
Firstly, it boasts high-performance capabilities that ensure smooth and efficient operations. Even if you're dealing with heavy workloads or demanding applications, these switches can handle it without compromising speed or reliability. Say goodbye to lagging connections and hello to seamless data transfer that keeps your business running at full throttle.
Moreover, these switches are equipped with advanced security features that protect your system from potential threats. From built-in firewalls to secure access controls, you can rest assured that your sensitive data is safe from unauthorized access or malicious attacks.
Juniper Networks EX3400-24T Switch

Ports24 x 1Gb Rj -45 + 1/10Gb SFP + + 2X40Gb QSFP + Uplink PortsActive Ports24+4+2Operating SystemJunos OSSwitching Capacity288 Gbps
Juniper Networks EX3400-24P-AFO Switch
Ports24 x 1Gb Rj -45 + 4 x 1/10Gb SFP + + 2X40Gb QSFP + Uplink PortsActive Ports24+4+2Operating SystemJunos OS Switching Capacity288 Gbps
Juniper Networks EX3400-48T-AFI Switch

Ports48 x 1Gb Rj -45 + 4 x 1/10Gb SFP + + 2X40Gb QSFP + Uplink PortsActive Ports48+4+2Operating SystemJunos OS Switching Capacity336 Gbps
Juniper Networks EX3400-48P -AFO Switch
Ports48 x 1Gb Rj -45 + 4 x 1/10Gb SFP + + 2X40Gb QSFP + Uplink PortsActive Ports48+4+2Operating SystemJunos OSSwitching Capacity336 Gbps
With this, you'll have complete control over your network while enjoying unparalleled reliability and efficiency. Let's delve into more detail.
High-Performance Capabilities
The Juniper EX3400 series rocks when delivering top-notch performance without breaking a sweat. With its impressive web speed capabilities, it ensures your business operations run smoothly and efficiently. Even if you have a small or large network, the device can easily handle it. It provides high-speed connectivity, allowing fast data transfer and minimal lag time.
Not only does it offer exceptional web speed, but it also provides scalability options to meet the growing needs of your business. As your company expands and demands increase, you can easily add more devices without compromising performance.
Its flexible design enables seamless integration into existing networks, making it a perfect choice for businesses looking to expand their infrastructure.
With its high-performance speed and scalability capabilities, it is an excellent choice for businesses seeking top-level performance without hassle or compromise.
Advanced Security Features
Experience advanced security features with this device that will protect your system and give you peace of mind.
The series offers comprehensive network threat prevention capabilities, ensuring your web remains secure against attacks. With built-in security intelligence, it can detect and mitigate various threats, including malware, viruses, and unauthorised access attempts. This proactive approach to protection helps prevent any potential breaches before they can cause harm to your system.
Along with network threat prevention, the Juniper EX3400 series provides secure access control features. It offers granular control over user access, allowing you to define and enforce policies based on user roles or groups. You can easily manage who has access to specific resources within your web, reducing the risk of unauthorised access or data breaches.
With advanced authentication mechanisms such as 802.1X port-based authentication and MAC RADIUS authentication, you can ensure that only authorised devices and users can access your network.
Versatile Solution for Businesses
The Juniper EX3400 series is designed to provide the flexibility and scalability modern businesses require. It can easily accommodate your network requirements
Regardless of the size of your enterprise
You can enjoy the following benefits by using the device:
Flexible deployment options: It offers various deployment options, including standalone, virtual chassis, and mixed mode. You can choose the option that best suits your business needs.
Advanced features for seamless integration: The EX3400 series supports advanced features such as Virtual Chassis technology and Junos Fusion Enterprise, allowing you to integrate multiple switches into a single logical device seamlessly.
High-performance throughput: These switches are equipped with high-performance hardware that ensures fast data transfer rates and low latency, enabling smooth operation of mission-critical applications.
Scalability for future growth: As your business grows, so does your network infrastructure. It provides scalability options that allow you to easily expand your matrix without compromising performance.
The device is a versatile solution for businesses of all sizes. Its flexibility and scalability make it an ideal choice for organisations looking to optimise their networking capabilities. It helps you to connect multiple devices and ensure reliable connectivity across different locations.
Conclusion
In conclusion, the Juniper EX3400 series offers many benefits that make it an exceptional choice for businesses needing high-performance networking solutions. With its advanced security features and versatile capabilities, it provides a reliable and efficient solution that brings peace of mind to network administrators. With its impressive performance advantage over competitors in its class, this series is a leading option in today's competitive market.
Will you be picking one up?
---
Related Post